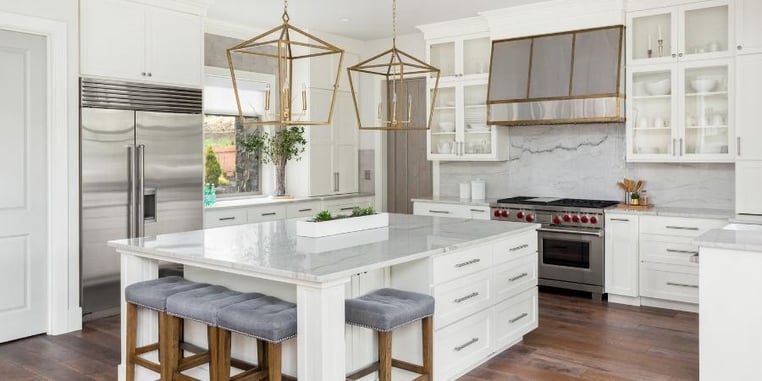 You likely hadn't thought about paint and hardware finishes and what makes them unique until you began designing your custom home. Not knowing the difference between matte and eggshell or chrome and nickel is common, but now that you're choosing finishes for your home, things are getting confusing. What are the best finishes for each application? How do you choose finishes that best suit your custom home?
The finish you choose for hardware and plumbing fixtures will add to, or distract from, the style of each room. A paint's finish will affect its sheen, durability, ability to be cleaned and touched up, and how well it camouflages scuffs and marks. Paint finishes are more varied than you might think, and it starts with their sheen.
How To Choose The Right Amount Of Sheen
The level of sheen you choose will depend on several factors, such as the color, where the paint will be used, and how much the space will be exposed to natural light. Dark, more saturated paints contain more pigment than their lighter counterparts and will appear richer in a flatter finish. Less sheen also means that imperfections in the surface are more camouflaged. This is because matte and flat paints absorb more light.
As for placement in relation to sunlight, less sheen is best. Lots of direct sunlight in a room that is painted with a glossy finish will show every imperfection and may simply be overwhelming and unsightly. The trade-off is that flat paint, particularly with light colors, will show more scuffs and wear. This could mean more frequent touch-ups because flat paint doesn't wipe clean as easily as paints with a higher sheen.
Glossier paints with a higher sheen are most used for trim, molding, and cabinets. As for entire rooms where a higher sheen is compatible? Think smaller spaces and rooms where an easier clean-up is needed, such as the half bath, the foyer, the mudroom, and children's rooms.
There are differences in how sheen will affect labor costs as well. For example, matte paints require fewer coats, reducing the amount of hours spent on painting. As for touch-ups, with matte paints, only the damaged area will require fresh paint. Paints in a glossy finish are trickier, requiring the entire wall to be repainted, even if it's only a small hole that needs to be repaired. Prepping a wall for paint is also more laborious with glossy paint, requiring thorough sanding to get out any imperfections.
Paint Finishes: What And Where
With some understanding of how a paint's sheen can affect how your room will look and the labor involved, let's take a closer look and break down each level of finish.
Matte/Flat
What:
Little to no sheen
Easy to touch-up
Easy to damage and scuff
Where:
Ceilings
Accent walls
Low traffic areas
Eggshell & Satin
What:
Durable with a little sheen for just a touch of light reflection
Has a luxurious, velvety appearance
Hides fingerprints, smudges, and stains while still creating a light feel
Gives an elegant and high-end look to any room
Where:
Living room
Mudroom & Laundry room
Bedrooms
Dining and Kitchen
Hallways
Gloss & Semi-Gloss
What:
Lasts longer than the less glossy paints without touch-ups
More resistant to dampness and can be wiped clean
Wall prep involves sanding and the more layers will result in a higher sheen
The slight sheen reads as luxurious
Use alongside other materials like stone and wood
Where:
Kids' rooms
Bathrooms
Mudroom & Laundry room
Cabinets
Kitchen
Trim (molding, door frames, baseboards, etc)
High Gloss
What:
Brilliant, shiny appearance
Wipes clean very easily
Reserve only for small accent areas
Where:
Trim (molding, door frames, baseboards, etc)
Cabinets


Hardware Finishes Across Styles
The finish you choose for your hardware will likely correspond with the overall style of your home more than the finish of your paint colors. They're more recognizable to present and future homeowners as well, so they don't require quite the depth of explanation.
The amount of items in your home that you'll have to choose a finish for, however, is the surprising factor. Kitchen knobs and pulls, doorknobs and hinges, faucets, and handles are all on the table. An easy place to start is to decide on the base color, then its shine. For example, would you choose a base color of silver, gold, or black? Next, choose between shiny, brushed, or matte. Now, let's look at the most commonly used hardware finishes.
Chrome

A recognizable ultra shiny finish is chrome. This bright finish is still used widely today, although it has taken a backseat to other finishes. Chrome is usually chosen for contemporary and modern-style homes. It does show water spots and fingerprints easily, though.
Nickel

Polished nickel is shiny like chrome but it has a notable warmer tone, where chrome has cool tones. Brushed nickel is simply a muted version of the same tone. Both finishes pair well with virtually any color. Pair with gray and the cool tones will show though, but pair with green or cream, and the warm tones will be more prominent. Both are typically seen in traditional, transitional, and modern farmhouse-style homes.
Black

Matte black is a bold hardware finish that has been catapulted to the front of the trending lists for the past couple of years. Paired with white, or any other color of a lighter hue, and it creates a sophisticated and high-end environment that feels crisp and modern. Choose this finish if your style is modern, modern farmhouse, transitional, or even some traditional styles.
Brass

Polished brass is that shiny gold finish that was popular in the 80s and has made a bit of a comeback in more modern hardware styles within the past five years, but only in certain contexts. Using too much-polished brass can look dated. Use with restraint in a small space, like a half bath, for a high-end look.
One of the most popular hardware finishes in the last few years is by far satin, or matte, brass. This softer gold tone is subtle, chic, and gives the high-end look that many custom home designers and homeowners are leaning toward. It pairs well with light and dark colors alike. You'll see this finish in any style home. The deciding factor here will be the design of the hardware itself.
What Are The Best Finishes For Your Custom Luxury Houston Home?
Every choice that goes into designing your custom high-end home in the Houston area is important. If you're ready to

start the conversation about building a custom home

, you don't have to wait until you hire an architect or

even until you buy your land

. Southern Green Builders is a luxury custom home builder in the Houston area that's dedicated to working with you and your architect or designer to get every detail of your dream home just right. No detail is too small when it comes to designing and building your custom home.

Contact Southern Green Builders

to learn about our process. We can connect you with the area's best architects and start mapping out your design goals as a team.