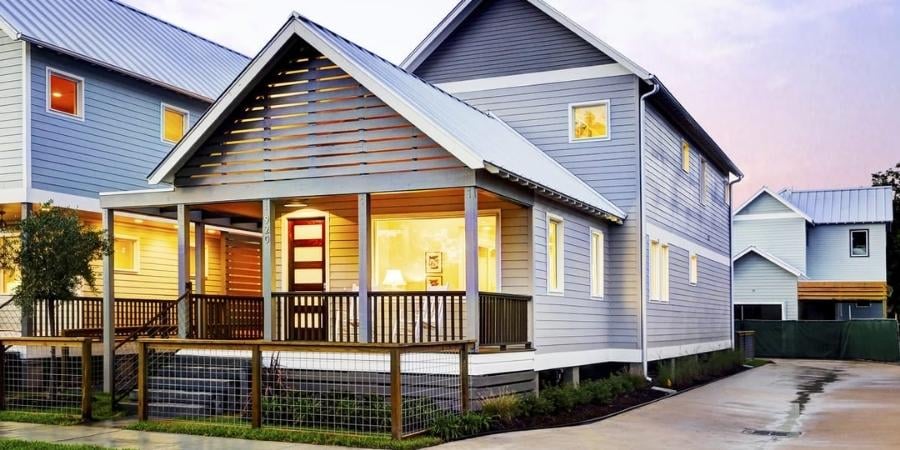 Farmhouse style has been around for a while now and has seen several iterations. It's transformed from a country aesthetic to sophisticated and even sometimes a little transitional. Where does the farmhouse style come from and how has it evolved through the years? Here, we break down every version of the well-known and well-loved style and why you should use this adaptable style in your luxury Houston home.
What Is Farmhouse Style?
The farmhouse style was borne from a desire for comfort. It's a balance between coziness, practicality, and personalization. The goal is to create a space that's charming but functional, and invites you to kick up your feet and stay for a while. Soft color palettes, natural textures, worn surfaces, and repurposed pieces define the farmhouse style.
Over the past several years, the farmhouse style has fractured into several subcategories that suit almost any taste. Many of the newer versions of the farmhouse style appeal to homeowners that aren't even particularly fond of the original farmhouse trend. What are the many versions of the farmhouse interior style? Let's start with the original.
Traditional Farmhouse
Think of classic farm life and you'll probably picture exactly what a traditional farmhouse encompasses. If you pictured weathered metal pendant lights, beadboard wainscoting, woven storage baskets, weathered wood stools and tables, open shelving, and porcelain door knobs, you've hit the design nail on the head. The design is naturally cohesive. The color palette includes lots of white, natural wood, and small doses of color.
Modern Farmhouse
The modern farmhouse style takes the traditional farmhouse style and polishes it up a bit. It's more minimalistic than its predecessor, with clean lines, fewer details, and a good balance of worn and new surfaces. Picture a kitchen island that's a repurposed sideboard topped with polished marble and surrounded by clean white perimeter cabinets with shaker fronts. The modern farmhouse takes the rustic nature of farmhouse and adds some contemporary elements.
Start with calming neutrals and add touches of natural wood, rather than the other way around. Imagine crisp white walls with natural wood interior doors, black hardware, blown glass pendant lights, and a mix of linen upholstered furniture and natural wood furniture. You'll also see some mid-century pieces in the modern farmhouse that feature straight lines rather than curved arms or overstuffed pieces.
Some examples of how to include modern farmhouse features via architectural elements are worn reclaimed beams against a white ceiling, interior and exterior corbels, sliding barn doors, and painted or natural wood shutters against a white or gray exterior. The modern farmhouse style coordinates well with landscaping that's not too fussy but not too wild.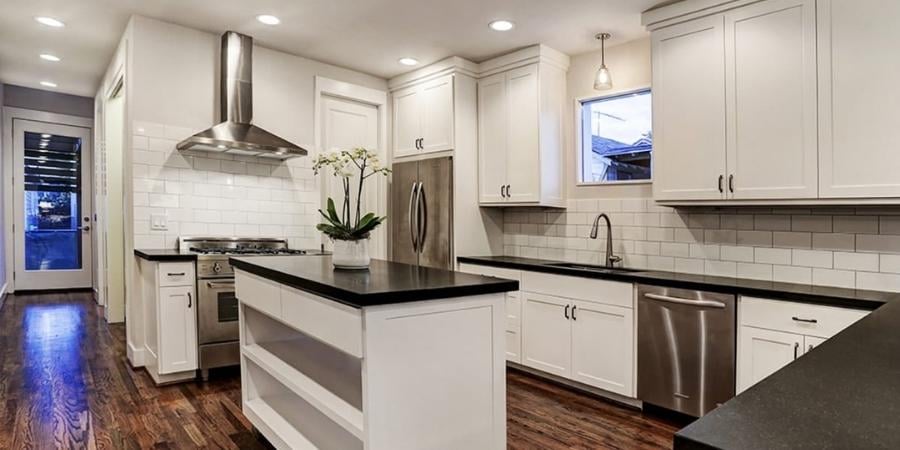 French Farmhouse
French farmhouse has more flair, elegance, and romance than a modern farmhouse. Muted pastels, more ornate metal accents, and worn wood provincial furniture make up the bulk of this style. The motif would also be described more as antique rather than rustic or weathered. To accent the space, consider gilded mirrors, furniture with curves, and intricately carved wooden pieces.
The French farmhouse is a juxtaposition of well-loved surfaces and fine antiquities. Pair your vaulted ceiling with reclaimed beams in the living room with a crystal chandelier, or a distressed dining table with wood-turned legs paired with French provincial upholstered dining chairs.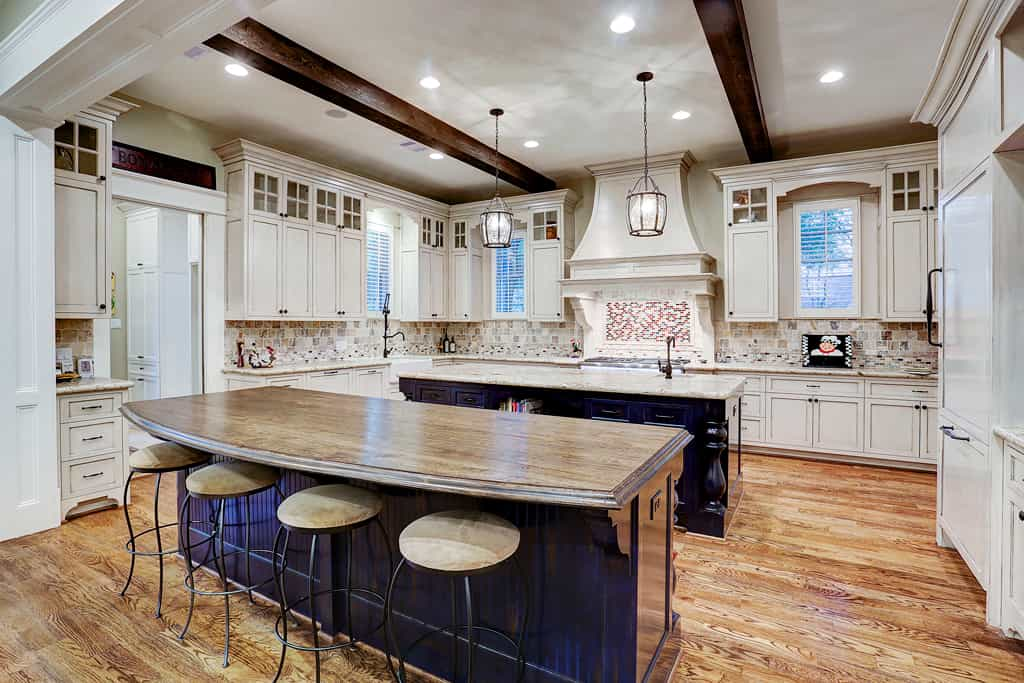 Rustic Farmhouse
In the rustic farmhouse home, natural wood is the main player. Function and utility are also a big part of this style, like wrought iron light fixtures and hefty hardware that's meant to be shown off. The flooring in rustic farmhouse homes have lots of textures, like with brick flooring in the entryway and kitchen, and worn natural wood floors throughout the other spaces. Instead of woven baskets, use crates to wrangle blankets in the living room and shoes in the foyer.
The rustic farmhouse style can feel visually heavy, so apply the style selectively, using bulkier wood pieces and textures balanced with upholstered furniture in light colors. Some architectural elements to consider are a floor-to-ceiling brick fireplace, a wood board statement wall, and thick reclaimed interior posts.
Coastal Farmhouse
Coastal farmhouse interiors swing in the opposite direction of the rustic style, with elements that are designed to feel light and airy. Don't assume that the term 'coastal' means a nautical theme. Instead the coastal farmhouse style borrows its colors, textures, and tranquil energy from the seaside experience, rather than its imagery.
It's closer to the modern farmhouse than other styles in that it incorporates clean lines, a bright palette, smoother textures, and minimalism. Use luxury vinyl tile flooring in an ash wood tone, white shaker cabinets, glass globe or rattan pendant lights, and natural wood built-ins. As you'd expect, the coastal farmhouse style features lots of blues, from very light powder to rich turquoise. Use these tones sparingly, like on your bathroom vanity, kitchen backsplash, smaller furniture pieces, and throw pillows. White linen sofas, jute rugs, seagrass wallpaper, and bleached or whitewashed wood are all coastal farmhouse staples.
Why Should You Use Any Farmhouse Style in Your Houston Home?
There's a farmhouse style for everyone because it's welcoming and meant to be lived in, where nothing's too precious. If you're drawn to comfort and understated, but well-communicated style, you'll love the farmhouse style. These various farmhouse styles have also stood the test of time, each changing minimally through the years. This means your design decisions won't require a big overhaul because they've become dated.
When you're ready to explore the different farmhouse styles and discover which style suits you and your family best, contact Southern Green Builders. From historic remodels to contemporary new custom homes, we approach each project in a personalized way that ends with a Houston area home that's a perfect fit for you.