Designing a new custom home is your chance for a fresh start. You have the opportunity to critically evaluate different spaces in your current house and figure out what you like, as well as what hasn't been working for you and your family.
As you're coming up with ideas for your luxury custom home in the Houston area, however, it can be challenging to know where to start. There are numerous decisions to be made, both large and small, in addition to nailing down your overall interior design aesthetic.
Some the factors to take into consideration as you plan your new home build include your estimated budget, evolving lifestyle needs, and current and anticipated family dynamics.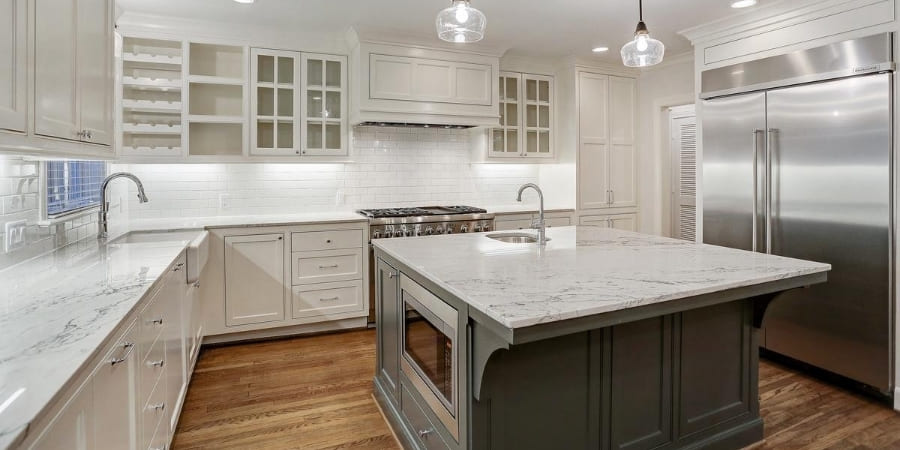 Interior Design Trends 2020
To help you kick off the design phase for your new luxury home, it doesn't hurt to explore current trends and up-and-coming technology. You never know what you might come across to enhance and refine your original vision. Here is a look at several 2020 home design trends to consider for your home build or remodel in Houston:
1. Kitchen Islands with Cantilevered Seating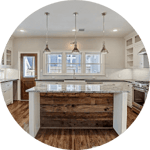 For many families, islands serve multiple purposes, from food preparation to dining and socializing. Traditional islands, however, are being replaced in luxury custom homes with large, multi-height islands that feature a cantilevered table and integrated seating area. Not only is this modern design attractive, but it also provides a more comfortable spot for eating, working, or doing homework.
2. The Grandmillennial Style
The Grandmillennial style has been on the rise since the start of 2020. Some designers refer to it as the New Traditionalist style or Granny Chic. This classically informed aesthetic is a bit more eclectic, combining traditional design elements—such as scalloped lampshades, embroidered linens, topiaries, and delicate chandeliers—with more modern pieces, such as contemporary art, clean-line furniture, and bright colors.
3. The Decline of Tonal Gray Rooms
Throughout the past decade, it was wildly popular to design rooms filled with varying hues of grey for a monochromatic room that departed from the all-white aesthetic. However, grey is starting to lose its place at the top, especially when applied in abundance. In fact, pale-colored monochromatic rooms in general—including those that are entirely white, beige, or taupe—are no longer in style this year. Instead, homeowners are selectively choosing monochromatic palettes that express personality, daring, and elegance, such as cobalt blue, Kelly green, or deep aubergine. All-black kitchens are also becoming a more favored design choice when it comes to color trends for the new decade.
4. The Rise of Earth Tones
Cold tones are out. Earth tones are in. As the industrial style loses popularity and homeowners seek to create layered space filled with warmth and personality, they're choosing saturated earth tones for walls, furniture, flooring and hardware. Some of the popular natural hues taking over in custom Houston homes include yellow ochre, olive green, garnet red, chocolate brown, and wine, which all blend well with organic materials and finishes.
5. Dark Interior Doors
The standard matching white door and trim has become passé in 2020. Instead, consider capturing a bolder and more artistic look by painting your interior doors a rich, dark color. Paired with the right hardware, they can add warmth and character to different rooms throughout your house. They also have a bit more personality and drama than the traditional white doors.
6. Antique Lights
Whether you're remodeling a historic home in Houston Heights or designing a new custom home with a traditional twist, you may want to consider incorporating antique lighting fixtures, including chandeliers, brass sconces, Victorian pendants, and unique Art Deco pieces. Lighting is a good area for blending in a touch of classic elegance without making the room seem overly stuffy or outdated. Soft gold is also one of the most popular finishes of the new decade.
7. Smart Faucets in Kitchens and Bathrooms
Homeowners are making a gradual shift toward smart home accessories that augment connectivity and convenience. As part of that shift, you can expect to see more smart taps in bathrooms and kitchens in modern homes. Some are operated by the touch of a hand, while others may be voice-controlled or activated by a sensor. You can find models that incorporate technology to help control water temperature and flow levels and alert you if there is a malfunction or leak.
8. A Biophilic Interior Design
Another trend that is influenced by an increasing desire to be close to nature is biophilic design, which encompasses things like a living wall, a low-maintenance biomontage, and hanging plants. It is believed there are both health and environmental benefits to embracing humankind's innate love of nature and using it to design a room that is infused with natural light, vegetation, and raw materials and textures. Using recycled and refurbished materials, such as reclaimed timber, also continues to be a popular interior design trend in 2020.
9. Creating Multi-Functional Spaces
Having a home office or workspace has never been more important. However, while it's good to have a designated space for handling your professional responsibilities, you can make the most of a home office by combining it with a closet, custom cabinets for storage space, or a pullout sofa to accommodate overnight guests. Adding such elements means you can still have privacy and solitude while you're working, but the room can serve multiple other purposes when you're off the clock.
10. Quartz and Faux Marble Counter Tops
Granite and marble counter tops no longer enjoy the popularity they did in the past. Now, for ease of maintenance and durability, homeowners are choosing alternatives, such as quartz, porcelains, and synthetic materials. There are also new types of quartz that are nearly indistinguishable from marble. They are equally luscious and beautiful, but also easier and more convenient when it comes to upkeep.
Designing a Home in the Houston Area
Developing a design plan for your new custom house or historic home renovation can be a bit daunting and time-consuming. Getting help from an architect or interior designer helps you streamline and simplify the process. Additionally, you should involve your home builder into the project from the beginning, while it's still in the design phase, as they will be able to offer valuable input and help ensure that what's put on paper can be built cost-effectively. Our team at Southern Green Builders is all about collaboration and communication as we join our expertise with your vision to create a positive custom home building experience and the outcome your desire.