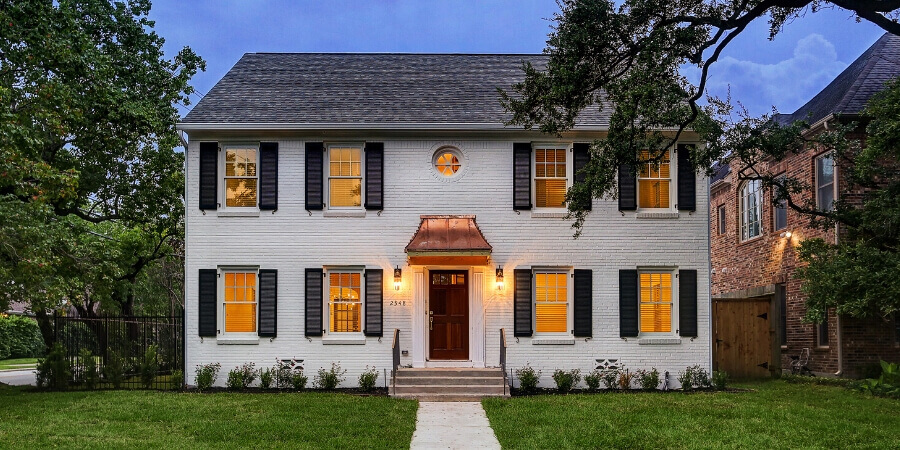 Cost is one of the major contributing factors to consider when building a custom home. You are likely wondering, how much does it cost to build a custom home in Houston? More specifically, what specific factors make up the cost of building a custom home?
The average luxury custom home in Houston will cost about $300 per square foot in terms of just materials, but that doesn't really paint the full picture. The cost of building a custom home is made up of hard costs, like materials, and soft costs, like permits and design. Of course, there are many decisions leading up to the construction of your home that will also affect cost, but let's focus on those hard and soft costs here.
Factors that Affect Cost
In order to provide a more detailed understanding, let's dive a bit deeper into each factor:
1. Design Fees
When you hire an experienced architect, you will likely save money in the long run. An experienced architect is less likely to cause price scope creep, will be well versed in communicating with other professionals, and will have the latest industry knowledge for different materials, methods, and trends. You can also depend on your architect to ensure your project complies with building codes and local ordinances.
It is also important to loop your home builder into the process as soon as possible so that you can make sure the home builder (who knows materials costs better than the architect would) is aligned with your budget. A builder like Southern Green Builders could help you find the right architect for you, so there is no downside to choosing a builder first.
There are a variety of ways that architects and designers quote their fees. For new homes, architectural fees in Houston will typically range between $4.00 and $12.00 per framed square foot, depending on the level of services desired. Of course, the more you would like your architect to be involved in the construction process, the higher their fee. Again, there is significant value in having an architect on your project from beginning to end. The cost may look high on paper, but you will be glad you had the architect available throughout the complex process, rather than just the design phase.
Related reading: What to Expect When Building a Custom Home in Houston and How Much Does It Cost to Hire an Architect in Houston?
2. Permits and Preparation
Houston is a sprawling city with more than a dozen separate communities with separate construction regulations. The Houston Public Works website offers a Project Planner tool to help you understand how to navigate the permitting process, what information you'll need to provide, and the plan review process timeline. Even if your architect or home builder will provide this service for you, it's a great idea to learn more about the process so you'll know what to expect. Keep in mind that the size and value of your custom home will determine the fee.

You may need to consider additional fees, such as impact fees, engineering fees, water tap fees, or HOA review fees. Ask your architect or designer if these will apply to your custom Houston home. You can even go to the Houston Public Works website to find contact information to learn more.

If you're starting with raw land or land with an already existing structure, you'll have additional costs related to preparations. These might include soil tests, tree clearing, and land grading, if you're working from raw land. As for an existing structure, additional costs would of course include demolition.
Related: 10 Questions to Ask Before Buying Land in Houston
3. Land
The land you purchase for your custom Houston home will dictate the feasibility of your design. Some factors, such as flood plain, size of the lot, the composition of the soil, and location will have a large impact on your home design. If you don't yet own land, you may be able to consult with your architect and home builder on sourcing land. The quality and location of your land will affect the design, so you'll want to make sure that the land you invest in will complement your design goals.
The price of land in Texas per acre varies drastically across the state. In the Houston area, you could pay upwards of $100 per square foot. If that land is in a historic area, a bit further from the city center, or near water, the price will fluctuate.
4. Labor
Labor will make up about half of your overall costs and can fluctuate, but not nearly as much as materials and finishes. The variation in cost can depend on skill. Therefore, you will get what you pay for, as with anything. If your project requires skills having to do with special installations or artisan touches, you will pay more for labor. If labor costs seem particularly low, this may reflect the skill of the team. Regardless, you should research previous projects to determine if your project is within their scope of skill.
5. Building Materials, Finishes, and Mechanical Systems
Building materials and finishes account for the biggest difference in the cost of your custom home. Basic builder-grade materials will bring your cost to roughly $165 per square foot. Higher quality custom materials would come to approximately $200 to $300 per square foot. You can expect luxury custom homes to exceed $300 per square foot. The higher the quality of building materials and finishes, the higher the price per square foot of your custom home.
When choosing finishes, keep in mind that choosing the highest grade across the board will increase the final cost of your home very quickly. To keep costs reigned in, consider where you value higher-quality finishes most. The flooring, lighting, tile, countertops, hardware, plumbing fixtures and more will all factor into this part of the budget. Depending on a designer to help you make these decisions and determine where higher quality or trending finishes are most necessary will prove very valuable.
Not every cost can be predicted at the time of setting the budget. Accommodating unforeseen material changes and fluctuations in cost would be covered by the construction allowance or by a separate contingency. An allowance is set aside for the purpose of covering costs that aren't yet finalized when the budget is set.
When it comes to mechanical systems, like HVAC systems, performance and energy efficiency determine the cost. These systems no longer just provide cool or hot air, they control everything from humidity to the quality of your indoor air. High-tech systems will, of course, come with a higher price tag.
6. Pools, Landscaping, and Outdoor Elements
The average cost to install an inground swimming pool can begin from around $30,000 and can reach over $100,000. As with finishes inside the home, finishes in and around your pool will cause fluctuations in cost. Lighting, custom tile, a heating system, size, and an adjoining hot tub will all cause fluctuations in the tens of thousands of dollars.
Landscaping is a custom element with an enormous range as well. What's possible around your new custom home in Houston is only limited by your footprint, growing zone, and imagination. Your builder or architect will likely have recommended landscapers that will consult with you about what's possible on your land and price ranges based on those variables.
As many homeowners have been spending more time outside, attention has been given to the outdoor living areas, such as kitchens. An outdoor kitchen can include a built-in grill and stove with storage, or even a gourmet kitchen complete with a brick pizza stove and a wine fridge. As for the enclosure, you could consider everything from an open-air pergola to a nearly closed-in stone structure. Add in separate dining and seating areas with a fire pit and play area, and you could add well over $50,000 to your final custom home cost. If you love to entertain friends and family, the cost may well be worth the value of enjoying this space for years to come.
Building Your Dream Custom Home in Houston
Even with this explanation of the possible costs that go into designing and building a custom home, you will likely have many more questions. Depend on a trusted and experienced custom home builder to point you in the right direction, guide you through the process, and help you understand the costs from the start. Whether you're starting from scratch or adding to your Houston home, contact Southern Green Builders for a consultation. Southern Green Builders is committed to open and timely communication in order to deliver a home that exceeds your expectations.