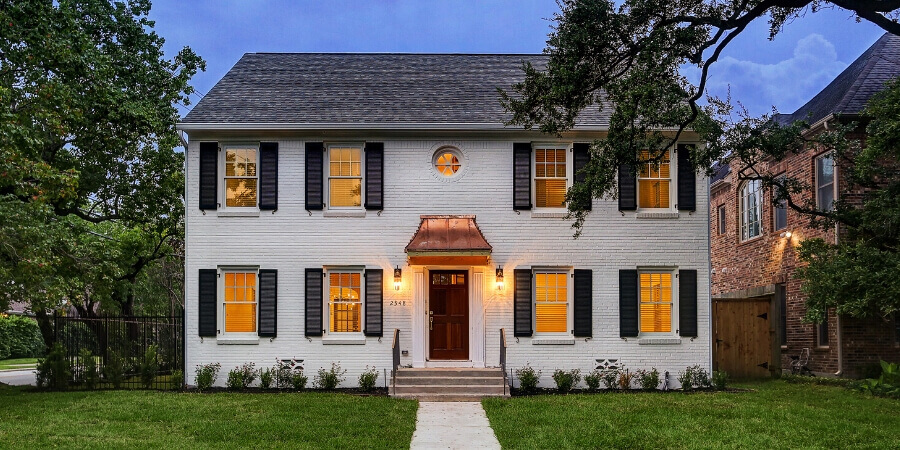 Cost is not the only factor to consider when building a custom home in Houston, but it is a necessary and obviously important one. When all of the dust has settled, you want a home that fulfills your vision for form and function, but doesn't leave you at financial risk due to depleted cash reserves, unaffordable monthly mortgages, or the inability for resale in the case of a life change.
Have you ever stopped to think why there is such a massive difference in the price of a car from one brand to another? They all have four wheels and an engine and get you from point A to point B, right? Automation, driver and passenger comfort, performance, reliability, and style are all factors that affect the price of a car and create such a discrepancy when it comes to price. Although the contributing factors are different, the same concept applies with the design, construction, and cost to build a custom home in Houston. (Before you get started building, here are 6 Things You Should Know.)
Factors that Affect Cost
In order to provide a more detailed understanding, let's dive a bit deeper into each factor:
1. Design and Engineering Fees
Similar to the car example, not all architects are created equal and there are a variety of different ways that architects and designers quote their fees as well as many different ways they bill for work during the project. For new homes Architectural and engineering fees in Houston will typically range between 2.5% to 4% of construction costs depending on the level of services desired.
For remodel projects the architectural and engineering fees are a larger percentage of the overall cost as there is added complexity and time required in measuring and drawing the existing structure prior to beginning design work. For a remodel project of a typical three to four bedroom home that incorporates space planning and a modest addition, the fees for architectural and engineering services could be expected to range between $25,000 and $35,000.
The Architect is responsible for creating the design solution that is tailored to the needs of the client while also being responsible for ensuring that the design complies with all of the building codes, regulations and deed restrictions that govern development on any given property.
Related reading: What to Expect When Building a Custom Home in Houston
2. Permitting and Regulatory Fees
Because Houston is such a massive sprawling city, it contains more than a dozen separate communities and jurisdictions that are self governed when it comes to residential construction. Before you begin, be sure and understand what regulatory requirements you will be subject to and learn the pricing structure for each. Items to consider are impact fees, water tap fees, drainage fees (remember hurricane Harvey…?), HOA review fees, and of course the cost of the building permit itself — which, by the way, every jurisdiction uses a different formula to determine the cost.
Related: 10 Questions to Ask Before Buying Land in Houston
3. Labor
My uncle is a self proclaimed 'handy man', you know, the 'jack of all trades'... He can do everything from patching drywall to laying tile, and he can get the job done for less than half of what most people charge. The only issue is that construction work is not his full time job so you never know when he will show up and he isn't formally trained in anything having to do with construction, so the quality of the finish is a roll of the dice. This is an extreme example, but an important one to be made.
As such, labor costs vary from contractor to contractor in Houston based on several factors. Skill level, crew availability, proper insurance coverage, efficiency, and effective schedule are just a few. Additionally, the complexity of certain elements of a custom home may also affect the cost of labor simply because certain contractors are just not capable of performing unique scopes of work.
4. Building Materials, Mechanical Systems and Construction Methods
There are literally hundreds of different products that perform the exact same function in a home available in the marketplace today. This was certainly evident in our recent trip to the International Builder Show. In 3 full days, we were unable make it through all of the halls of the show — we weren't stopping at every vendor and not all vendors were in attendance. With that many different options, it is easy to see that the materials used in the rough construction of the home drive costs in both directions.
When it comes to mechanical systems (specifically HVAC), performance and energy efficiency determine what cost goes in the line item. These systems no longer just blow cold or hot air in to the home (unless you want the cheapest one), they control everything from humidity to the quality of your indoor air.
Did you know there are over 6 ways to construct a slab on grade foundation? There are certainly pros and cons to each, and the cost to construct them is different for every one.
5. Finishes
Items that are considered finishes are flooring, tile, counter tops, door hardware, decorative lighting and plumbing fixtures, etc. These items are most relatable when it comes to costs because they are familiar items and ones that you can not only touch and feel, but research from the comfort of your own home. Very simple concept here: Price per unit multiplied by the number of units yields the cost. Getting started early on the finish items to discover selections that fit both your style and budget, or enlisting the help of a designer to do the same is time well spent.
6. Pools/Landscaping and Outdoor Elements
Swimming pools can range from $30,000 to over $300,000 and landscaping can be more than just grass and a small flower bed. If outdoor elements are an important part of your vision, it is important to understand the details pertaining to them as they can carry a significant price tag that some fail to account for.
Next Step: Working with a Custom Home Builder in Houston
Once you have a budget prepared and have a good idea of what it's going to cost, you are almost ready to start building your dream home. The big next step is to find a builder in Houston to work with who will answer your questions and guide you through the process seamlessly.
Connect with us or read our Pre-Construction Process Guide to learn more about building your own custom home in Houston.