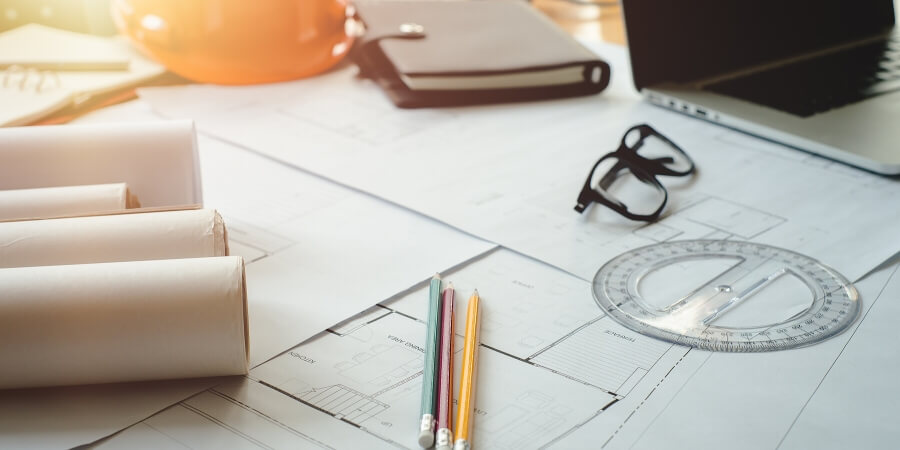 The winning recipe for designing and building your custom home in the Houston area begins with a blending of the key components, or more precisely, the individuals who make your project happen.
Ultimately, dozens of people will work on your new custom home at various points in time, but the main players are your architect and your home builder, who collaborate with each other to execute the custom home build from start to finish. Together, they ensure your new home is complimentary in both form and function, and that it meets the needs of your lifestyle today and for years to come. Before you build your home, you should know what to expect.
Builder vs. Architect: Key Responsibilities
When building a custom home, an architect is essential to getting the process started by creating a set of schematic drawings, which are the start to capturing your vision on paper. Selecting a home builder at the schematic design drawing phase enables you to effectively evaluate budget solutions early in the design process and make sure your project is both feasible and functional.
This is certainly a different perspective and approach than that held by the majority of homeowners, architects, and home builders alike, but we have seen that placing an emphasis on collaboration from the start allows for better cost control and increases project efficiency time and time again. That is why we highly recommend you hire your home builder and architect at the same time and make their introductions as soon as possible.
Once you have your core team members assembled, building your home is a well-planned sequence of phases during which each individual handles various tasks and responsibilities. Here is a look at who does what in each phase when implementing Southern Green Builders's Proven Pre-Construction Process.
1. Design and Pre-construction Phase
The first step of the project is creating schematic drawings based on your family's needs and preferences as well as your general budget. Schematic drawings do not contain details or dimensions, but they capture your basic vision for the home: number of bedrooms, number of bathrooms, kitchen size, entry ways, general shape, style, and size, along with extra features, such as a media/specialty rooms, fireplaces and garages.
Your architect will speak with you to get a sense of your current lifestyle and future life plans to sketch the home to your specifications. It's also important for your new home design to meet the regulatory requirements and boundary restrictions of your particular home site.
At this point it is possible for Southern Green Builders to provide a preliminary cost estimate for the home. This preliminary number is typically a range with a spread of 15-20%. Understanding this initial budget number allows for a clear direction for the approach to subsequent steps as it relates to size, specifications, and finishes in order to remain within the original general budget guidelines.
Next, through several additional design meetings, the initial vision is refined with more detail and dimensions during the process of creating what is referred to as the design drawings for the project. Once this set is in hand, Southern Green Builders has what it needs to be most impactful in terms of specifications, construction details and alternate construction methods to help meet both the expected level of finished product and budget. During this phase is when we see the majority of change iterations, presentation of alternate options and pricing adjustments being made. With their vast understanding of custom home construction and the market prices for various materials and finish items, Southern Green Builders will walk you through the process of clarifying different aspects of the plans and specifications. Every detail of the project will be represented in an easy-to-read proposal format that typically runs 85 -100 pages in length. This process produces a more narrow pricing estimate for the total cost of your project, although exact pricing is still to be determined a bit later.
After the details of the project and the pricing associated with them are reviewed and approved by you, the architect incorporates the details into the final set of architectural plans and the structural engineer develops the structural plans based on those details. This combined set of drawings is referred to as the construction drawings set and is the set that will be used to obtain the building permit. At this time it is possible to finalize all of the construction costs and develop a timeline for the completion of the project. Since your home builder is the one who actually executes the plans, they will solidify and document all of the details at this point of the design process, rather than waiting until construction is underway to be sure the plans work as well in real life as they do on paper. This also allows for a more efficient construction process, saving time on the schedule.
Another benefit of having your architect and home builder collaborating from the beginning is that both entities can work simultaneously to move the project forward. For example, as the design progresses, the construction team can also ready the job site and obtain necessary permits under the guidance of your home builder.
2. Construction Phase
During the construction phase, your home builder plans and manages the project and brings in trade partners, subcontractors, and specialty vendors to execute the installation of various components and systems in your new home. These team members play a key role in building every new home, handling various aspects according to their specialty. Trade contractors include concrete contractors, framers, electricians, plumbers, carpenters, painters, and heating, ventilation and air conditioning (HVAC) specialists, just to name a few.
You won't have to worry about coordinating or managing these subcontractors and tradesmen, as that is the responsibility of your home builder/general contractor. Each subcontractor and trade partner is subject to an intense evaluation process by Southern Green Builders to confirm their capacity and capabilities as well as their level and type of insurance.
During any residential construction process, communication is key. Through Southern Green Builder's robust Project Management software and weekly client site meetings, the lines of communication are always open. All details pertaining to the project are available for review 24/7 and you will have access to the real time construction schedule any time you would like to view it. A daily job log with site photos is also available during the project and any issues/clarifications will be brought to your attention immediately.
However, since you wisely chose to have Southern Green Builders involved in the design phase, you should have all your details and specifications determined before construction begins, reducing the likelihood of discrepancies to address or changes to be made. This prevents costly and time-consuming back and forth between you, Southern Green Builders and your architect once construction is underway, which allows it to progress more smoothly and efficiently. Meanwhile, your architect remains on call for the duration of the project in case you or your home builder require their services.
Based on the timeline and budget you solidified with your home builder, they and their team of subcontractors perform the hands-on labor to create your new home from the ground up. After it's completed, your home builder leads you on a walk-through to familiarize you with the home and to ensure the quality of the project meets your expectations.
A Modern Approach to Home Building
Because of the critical role your home builder plays in both designing and constructing your new custom home in the Houston area, it is crucial to find one that brings value to your project and ensures it is completed efficiently. Southern Green Builders's approach to custom home building is to be involved from the very start, removing uncertainties before construction begins and eliminating the need for costly changes once your home is being built. Whether you are renovating a historical home or building a custom home, our expert team will coordinate a smooth project from start to finish, delivering the quality of home you deserve, on time and on budget!