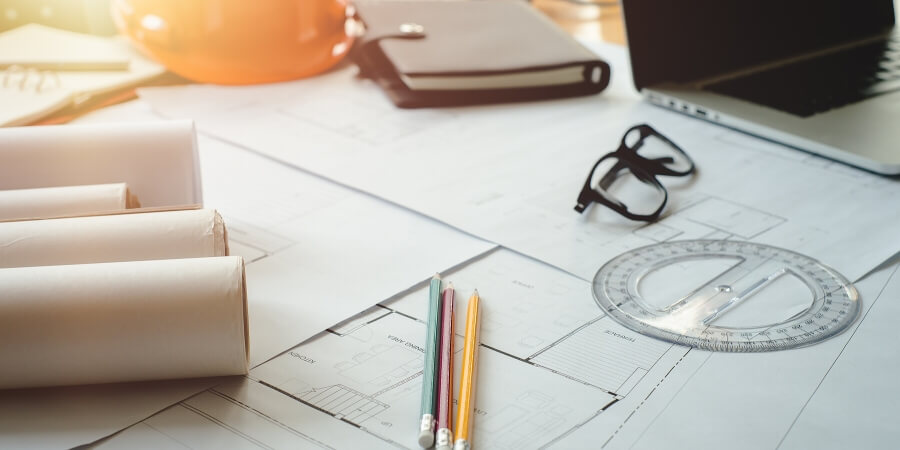 The most successful home builds start with your architect and home builder working together from the very beginning. The process is more seamless and the outcome will meet your expectations, if not exceed them, while staying within your budget and the projected timeline. What is the typical timeline to build a custom home in Houston? What else can you expect during the process? Let's map out the steps.
Custom Home Builder & Architect: Key Responsibilities
Building a custom home in the Houston area requires the skills and knowledge of both an architect and a home builder. There's no particular right order for hiring your custom home team, but you should hire them within a close timeframe. Doing so comes with the benefit of each of their unique experiences and knowledge, resulting in an efficient and cost-effective home-building process.
Your Architect
When building a custom home, an architect is essential to getting the process started. Your architect comes with years of education, certifications, design experience, and industry knowledge. Your architect will be the person on your team to review building codes/constraints, schedule surveys, create drawings, and make product specifications.
Houston's most talented architects will also likely have working relationships with the area's most talented builders. Consider using your architect as a resource for hiring a builder. When an architect and builder have an established professional relationship, your project will run more smoothly. Lines of communication will already be in place and you're far less likely to experience miscommunication or a clash in work style.
Your Custom Home Builder
Your custom home builder has specific knowledge about industry standards, will offer creative solutions to possible challenges, and have access to more specific product and labor costs, which will more accurately inform your budget.
Selecting a home builder at the beginning of the process enables you to effectively evaluate budget solutions early in the design process and make sure your project is both feasible and functional. We have seen that placing an emphasis on collaboration from the start allows for better cost control and increases project efficiency.
Building Your Custom Home in the Houston Area
There are standard steps, or phases, to building a custom home. They typically come with expected timelines, as well.
1. Pre-Construction Phase
Pre-Design
Your architect will want to get a sense of your current lifestyle and future life plans to sketch the home to your specifications. How many bedrooms and bathrooms? What type of floor plan would suit your family? What type of architectural style would you like? Would you like the bedrooms upstairs? What about an outdoor living space? Include as much information as possible to reduce the number of design iterations your architect will have to create, which will cut down the timeline during this phase.
It's also important for your new home design to meet the regulatory requirements and boundary restrictions of your particular home site. This will likely affect your design, so remember to be open to flexibility.
Schematic Design and Design Development
Based on the details you've given your architect, your schematic drawings will be created, then your team can develop a preliminary estimate. To stay well within your budget, this design may change. This is another reason why bringing a custom home builder in early is imperative. Their cost knowledge will allow you and your architect to come to a design that suits your needs and fits within your budget earlier in the process.
Your design drawings will allow your builder and architect to work together to develop specifications, construction drawings, and alternate construction methods where necessary.
You'll also choose every finish and amenity that will go into your home. This process produces a more narrow pricing estimate for the total cost of your project, although exact pricing is still to be determined a bit later, and also why an allowance is built into your budget. The combined set of drawings makes up the construction drawings set and will be used to obtain the building permit.
Preparing for Construction to Begin
At this time it is possible to finalize all of the construction costs and develop a timeline for the completion of the project. You'll receive a construction schedule and access to construction management software, where you'll track progress, get updates, and communicate with your team.
Permits, HOA approvals, site prep, and anything project-specific will need to be in place before the next step. This could be installing a silt fence to avoid run-off, setting up temporary power on site, having the dumpster delivered... the list goes on.
Your home builder will manage the project and bring in trade partners, subcontractors, and specialty vendors to execute the installation of various components and systems in your new home. You won't have to worry about coordinating or managing these subcontractors and tradesmen, as that is the responsibility of your home builder/general contractor. When you're hiring your builder, be sure to ask them whether they have an in-house team or if they hire subcontractors. If they hire outside of their company, ask about their qualification process.
2. Construction Phase
During any residential construction process, communication is key. Project management software makes the schedule, plans, revisions, and change orders available for review 24/7. A daily job log with site photos is also available during the project and any issues/clarifications will be brought to your attention immediately.
This prevents costly and time-consuming back and forth between you, your home builder, and your architect once construction is underway, which allows it to progress more smoothly and efficiently. Meanwhile, your architect remains on call for the duration of the project in case you or your home builder require their services.
Based on the timeline and budget you solidified with your home builder, they and their team of subcontractors perform the hands-on labor to create your new home from the ground up. After it's completed, your home builder leads you on a walk-through to familiarize you with the home and to ensure the quality of the project meets your expectations.
A Modern Approach to Home Building
Because of the critical role your home builder plays in both designing and constructing your new custom home in the Houston area, it is crucial to find one that brings value to your project, ensures it is completed efficiently and will work seamlessly with your architect from start to finish.
Southern Green Builders' approach to custom home building is to be involved from the very start, removing uncertainties before construction begins and eliminating the need for costly changes once your home is being built. Whether you are renovating a historical home or building a custom home, our expert team will coordinate a stress-free experience, delivering the quality of home you deserve, on time and on budget! Contact Southern Green Builders to schedule a consultation.