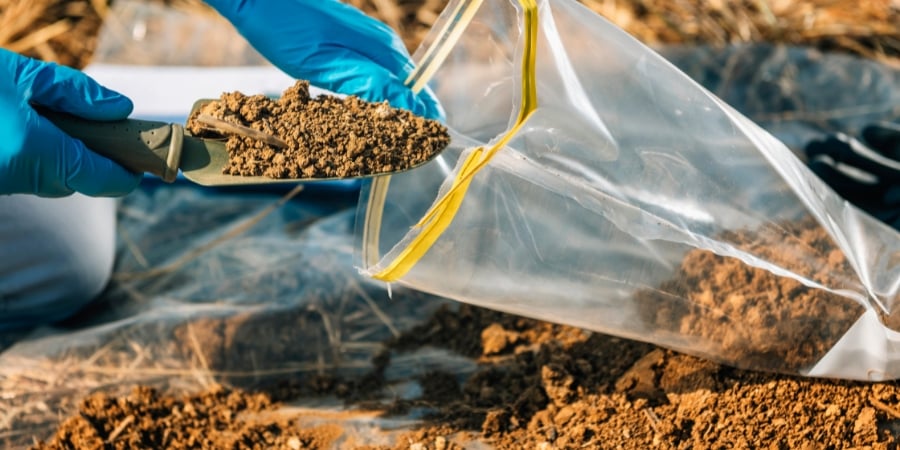 Soil testing is imperative to building a custom home in Houston. It gives an engineer the proper data to ensure your home's structure will be well-supported and last for years, without the worry of expensive foundation-related repairs. Whether you've already purchased land in Texas or you're in the market, it's important to know everything you can about soil testing and what to expect during the process and the outcome.
Everything You Need to Know About Soil Testing
Soil testing should occur immediately after you buy the property for your custom home in the Houston area. It's an often-overlooked evaluation when choosing your land. What makes soil testing so important, who performs those tests, and what are they looking for during testing?
Why Is Testing the Soil Important?
Soil testing for a new custom home will determine if/how the soil can properly support your foundation. Soil that's too loose or full of clay will need proper mitigation techniques and foundation design to support your home. The information provided in a soils report guides the structural engineer for proper calculations when designing your foundation.
Who Should Perform the Soil Tests?
A soil engineer, or geotechnical engineer, is formally trained in civil engineering. They'll bore holes in the property and test the samples in order to determine the soil make up. Through testing, they are looking to determine its composition and performance. The engineer will provide a report as well as recommendations for mitigating future issues.
What Exactly Are Soil Engineers Testing For?
Soil engineers are testing the soil for expansion or contraction in relation to its moisture content, which can cause uneven settling and erosion, and this information is used by the structural engineer to design your foundation. They'll also test for toxins and contaminants that can affect your health. Poor performing soil can be mitigated, while contaminated soil may not be able to be corrected or the costs may be prohibitive.
Who Are the Best Soil Inspectors in Houston?
Geotech Engineering & Testing (GET) began offering their services in 1985 and has grown to include a talented team of licensed engineers, geologists, and field and laboratory technicians. Their combined experience and expertise provide clients with techniques and recommendations that only come with decades of experience and continued learning. GET deeply understands the location-specific characteristics and behavior of subsurface soils that can affect your custom home build.
The GET laboratory conducts laboratory testing to evaluate soil classification, shear strength, compaction, compressibility, swell potential, and permeability. The report GET will provide will address specific project design, construction, and quality control requirements for a successful project. GET understands that field and laboratory testing of soils, construction materials, and groundwater often complement each other.
HTS Inc. Consultants have offered efficient, cost-effective solutions while working within project time constraints and budget limitations for more than 40 years in the Houston area. Having worked on more complex construction programs, they're well-versed in innovative approaches and solutions that will serve your custom home construction well. HTS strives to continue to learn and become experts in new techniques and technology to best serve its clients.
Their dedication to providing the best services of comprehensive geotechnical engineering and environmental consulting results in the best mitigation recommendations that are cost-effective and technically advanced for your project. HTS offers Phase I and Phase II environmental site assessments, revealing potential hazardous materials, record review of site conditions, and a historical review of site conditions.
HTS specializes in providing geotechnical engineering services that include site selection and feasibility studies, subsurface exploration, material selection, site preparation recommendations, and several more services.
Terradyne was founded in 1995 with the knowledge that subsurface problems are the principal cause of construction delays and cost overruns, inspiring a multi-faceted drive to uncover these issues to ensure a successful project for their clients. They do this by thoroughly evaluating subsurface conditions, and offering practical, economical, and inventive solutions derived from ongoing technical industry knowledge.
Terradyne performs geotechnical investigations through high-level technical capability and the best equipment for the job and the location. Their geotechnical engineers and laboratory staff create solutions with the experience and knowledge that can only come from years of experience and the drive to continuously learn as the industry evolves.
Their analyses include Phase I & II environmental site assessment and investigation, evaluation of potential vertical movements, load capacity, soil settlement analyses, lab testing, moisture content testing, and many more, pavement design and materials characterization, and Atterberg limits, just to name a few.
ARM Soil Testing LLC has been providing services in geotechnical engineering and environmental consulting throughout the Houston area since 2000. Their desire to maintain excellent relationships and perform their services on time and within your budget drives them to uphold a high standard of professionalism. ARM understands its important role in your custom home build, selecting the most reliable and cost-effective foundation recommendations available.
ARM can typically produce composition testing results in as little as one week thanks to electronic reporting. Their Phase I environmental site assessment will provide you with all the components of your soil as well as remediation recommendations.
Based in the greater Houston area, Texas Geotechnical Consultants offers testing and consulting. Their priority is to provide safe, dependable, and economical engineering solutions for your foundation design and construction needs. They not only provide excellent testing services but also customer service. Their ability to creatively problem solve through years of experience and technical expertise results in addressing potential issues with innovative thinking–all in time and within your budget.
Their geotechnical engineering services include soil borings, field soil testing, laboratory soil testing, geotechnical engineering and testing analysis, and developing foundation engineering and pavement design recommendations. Environmental engineering services include both Phase I and Phase II site assessments.
The Next Most Important Step In Planning a Custom Home
Whether you live in the Houston area or are planning a move, finding a home builder you can trust with your most important investment is key. Southern Green Builders understands every aspect that goes into building your custom house; from the soil beneath it and the layout that makes it work to the style that makes it feel like home. We have a wide network of industry professionals that will make your project a success and the process as stress-free as possible.
Reach out to us to schedule a consultation when you're ready to get your most important questions answered and start planning for your brand-new custom home.