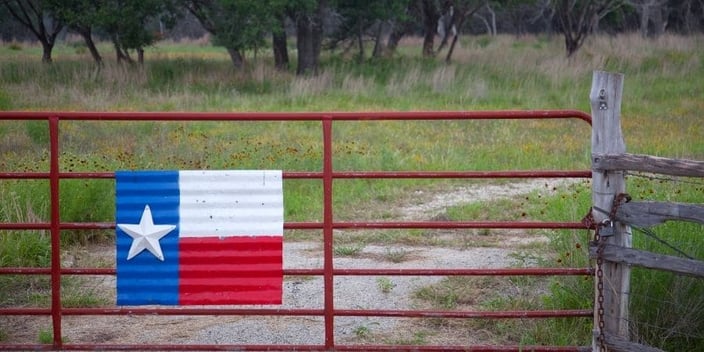 When you think of Texas, no doubt one image that comes to mind includes the wide-open spaces and rolling hills typically associated with the state and which contribute to its reputation as one of the most affordable locations for purchasing property and building a new house.
Even if your tastes trend toward rural rolling hills, sea-level plains, or burgeoning suburbs, you can find a desirable place to settle down amid Texas' vast and varied topography.
Along with landscape, there are several other variables to consider before purchasing land to build on. You want to be near a job market that provides opportunity for professional growth, a school district that's suitable for your children, and the attractions, amenities, and resources you use on a regular basis. Additionally, other important factors for prospective land buyers to consider include cost and whether the characteristics of a specific piece of property in the Houston area make it a worthwhile long-term investment, especially when used for building a new custom home.
How Much Does an Acre of Land Cost in Texas?
Overall, the average land price per acre in rural parts of Texas in 2019 was about $2,900, up nearly 7% over the previous year. The cost has continued to climb moderately over the past several years, simultaneously impacting the price to build a new home, which is congruent with national real estate markets. The land in Texas is diverse, however, and the price per acre depends on several factors, including size of the overall plot, demand, terrain, and availability.
Texas is typically classified by seven distinct market regions: The North Panhandle and South Plains region; the Far West Texas, Big Bend, and Trans-Pecos region; the North Texas, Central Texas, and South Central Texas region; the North Texas, Northeast Texas, and Piney Woods region; the Coastal Prairie-Gulf Coast-Brazos Bottom region, which includes the Houston, Bellville, and Brenham areas; the South Texas and Coastal Plains region, including the Rio Grande Valley; and Austin-Waco-Hill Country region.
Each region in Texas has its own dramatic landscape and unique character, which likewise affects the average price of land. From example, an acre of high-end land in the Gulf Coast is about $10,000 per acre, whereas in the far western part of the state, the cost is closer to an average of $1,300 per acre. In 2019, land sales in the Dallas-Fort Worth area averaged about $2,500 per acre, with a median price of $2,411 per acre.
While land values have increased steadily across the state over the past seven years, the volume of small land sales in Texas declined in 2019 after six years of growth. For most regions in Texas, a "small" land sale is anything involving a tract that is 200 acres or less. In Far West Texas, however, the definition includes land sales of 500 to 8,000 acres.
The decline in small land sales was experienced in several regions across the state, including Gulf Coast-Brazos Bottom, Austin-Waco-Hill Country, Northeast Texas, and the Panhandle and South Plains. West Texas and South Texas were the only two regions to experience an increase in 2019.
Not only did volume decrease, but the average tract size for small land sales in Texas also dipped 3% to 32 acres. Three regions that experienced increases in average tract size included Far West Texas, Northeast Texas, and South Texas.
Texas Realtors chairperson Cindi Bulla projects that there are several possibilities for the future of small land sales in Texas, given current data and the COVID-19 pandemic. She expects small land purchases will continue to be impacted by three main trends: residential migrations from dense metropolitan areas; continued rural and suburban development; and increased demand for warehousing, manufacturing, and shipping sites.
Where is Land the Cheapest in Texas?
Land in West Texas, the Panhandle, and the South Plains is the most economical, especially if you're looking for farm or ranchlands. In the Northeast and South Texas regions and Hill Country, properties cost closer to $6,000 or more per acre.
When you're weighing the cost of land, it's also important to take into consideration the purpose of your investment, what you intend to use the land for, and what sort of return you can expect in the future. As the footprints of metropolitan areas continues to grow, the demand for the surrounding rural land is expected to keep increasing. That means that while properties in North and South Texas and the Coastal Prairie aren't necessarily as cheap as other regions, they could be considered a more worthwhile investment.
What is the Cost of Land in the Houston Area?
The city of Houston is the county seat of Harris County, although the surrounding suburbs also spread slightly into the adjacent Fort Bend and Montgomery counties. In recent years, it's become increasingly difficult to find large tracts of available land near Houston, as well as other major metro areas like San Antonio and Dallas-Forth Worth. Most sales involving large tracts of land occur north of Houston, around Huntsville. As more people decide to leave the city and head toward suburbs, you can expect the cost—and value—of land in those areas to increase.
In 2019, the average cost of land in the Houston area was about $4,300 per acre, with a median of $3,142 per acre. Location plays a large role in determining the price of land, moreso than type or aesthetic appeal. That being said, the rural properties that have been cleaned up—or in other words, improved by things like interior roads, selective clearing and fences—tend to bring in a premium price. Otherwise, there is very little existing cropland in the vicinity of Houston or its adjacent suburbs. The little cropland that is present around Houston is typically valued for lifestyle farms or rural residential use, rather than agriculture use.
Choosing Land for Home Building in Houston
When you're building a luxury custom home in the Houston area, your land purchase is nearly as crucial as carefully designing and constructing the structure itself. The property you choose affects the value of your new home, the feasibility of construction, and the overall project price. You want the quality and location of your land to complement the design and style of your house, as well as your lifestyle and future goals. Once you've found the right land for your investment, Southern Green Builders can help you build a luxury home to match. Our goal is to join our expertise with your vision to create the perfect space for the next phase of your life.