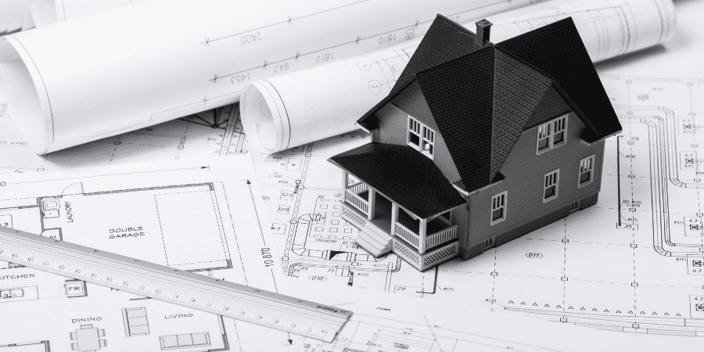 Building a custom home, or even doing a whole home remodel, is a significant investment—potentially one of the biggest you will make in your life.
With the amount of time, money, and effort you can anticipate pouring into the project, it's critical to work alongside the right team of professionals to help you make the most of your investment, starting with your architect.
A licensed residential architect will assist you with a number of valuable pre-construction items, from helping you refine your vision and organize your priorities to ultimately drawing up plans for your new luxury home or house addition in the Houston area.
What Do Residential Architects Charge for Their Services?
The cost to hire a Houston architect is wide-ranging and is dependent on a variety of factors such as their level of experience and education, what suite of services they deliver to clients, the level of detail provided in the drawings and the type and complexity of the project you're planning. On average, you will pay in the range of $15,000 to $40,000 for professional architectural services, which may include site evaluation and pre-design planning; schematic design; design development; preparing detailed working drawings and specifications for construction; coordination with structural engineers; negotiating construction contracts; and/or monitoring construction to ensure the new home or remodel is constructed according to the drawings and specifications.
The three most common ways that architects charge their clients include: per hour, per square foot, or as a percentage of the total construction costs. Hourly rates are typically used for smaller projects and tasks, such as drafting preliminary documents and plans or providing consultation. For whole home remodels or new residential construction, it's more likely your architect will charge you a percentage or stipulated sum based on the size (square feet) of the project.
While architect fees can be significant, they are a necessary component of the overall project budget, and working with an experienced professional can actually save you money in the long run. Good design makes a substantial difference in the overall experience by enabling your builder to properly cost all items in your home to give you an understanding of budget parameters, and it also creates efficiencies during construction, saving you both time and money. Architects also can serve as the liaison between you and other professionals that are involved in the project at some point, such as land surveyors, engineers, and building inspectors.
How to Find an Architect in Houston, TX
Because your architect has immense power to positively or negatively affect your construction project in Houston, it's imperative that you find a good one. That means an individual who is not only licensed but also experienced with your type of project, responsive, and reliable.
You can find your potential residential architect by looking online, particularly via curated sites such as Houzz, or the Houston Chapter of the American Institute of Architects. Also check with your real estate agent or friends and families to see if they have any recommendations based on past projects. Another way to approach the process is to hire your custom home builder first and then ask them to point you toward a trusted architect, which gives you further confidence the two parties will work well together.
Once you've created a short list of prospective architects, check out their portfolios and qualifications, as well as reviews and testimonials. You can get a list of references for clients who have worked with a particular firm or individual in the past. During your interview with each architect, confirm what project management services they provide, their fee structure, and process for collecting payments.
Throughout the design phase, and potentially into construction, you work closely with your architect, so it's important to find a person who understands and can capture your specific vision. For example, if you're renovating an older house in a neighborhood like Houston Heights, you want an architect who is familiar with the guidelines and best practices surrounding historic renovations. Each architect also has their signature style and specific approach to doing business, both of which should align with your own expectations if you want to foster a productive working relationship and overall positive home building experience.
Working with Your Houston Architect and Builder
While it is common to assume architects should solely handle the design phase of custom home construction, and then your home builder separately oversees the actual construction logistics and implementation, you will experience a smoother, less frustrating custom home building process by hiring both professionals at the start of the design phase and allowing them to collaborate from the get-go. Involving your Houston home builder during the early stages of planning and design enhances collaboration between them and your architect, creating more continuity and consistency from start to finish. At Southern Green Builders, our goal is to contribute our industry expertise while you are still refining your vision and making selections to prevent scope creep and mitigate the need for changes once construction is underway.