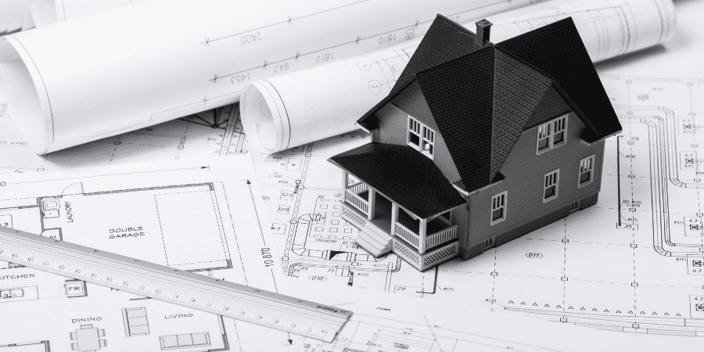 How much should you budget for an architect to design your custom home in Houston? This answer will depend on what services you'd like from your architect. Building a custom home, or even doing a whole home remodel, is a significant investment, making it critical to hire the right team of professionals to help you make the most of your investment, starting with your architect. From helping you refine your vision and drawing up plans to overseeing the entire construction process, your architect is one of the most important investments you will make in your custom Houston home or remodel. So what does it cost?
Why Hire an Architect for Your Custom Home or Remodel?
You may begin by wondering if you even need to hire an architect. Instead, ask yourself if you should hire an architect. The answer? Absolutely. Your custom home design or remodel shouldn't be left to the option that's good enough. Hiring an architect means you're investing experience, knowledge, and accountability in your home.
An architect has a unique education and licensing that makes them the best fit for bringing your home design goals all the way from a concept to a beautifully developed project, and will have the latest industry knowledge for different materials, methods, and trends. When faced with an obstacle during the process, they are experienced in finding solutions that suit your design goals, budget, and timeline. Whether it's an issue with the availability of materials, unexpected problems with a remodel, or hurdles in the permitting process, an experienced architect will provide the right innovations to keep a project on track.
Working with an experienced professional can actually save you money in the long run. Good design makes a substantial difference in how smoothly the project is developed and executed. Architects also can serve as the liaison between you and other professionals that are involved in the project, such as engineers, inspectors, and vendors.
How Much Does Hiring an Architect Cost?
Architects will typically charge between $4.00 and $12.00 per framed square foot of the home. This may seem like a very wide range. That is because it depends on the services you're hiring your architect to provide. These services can be as limited as only the drawings you'll hand over to your builder all the way to providing managerial and supervisory responsibilities throughout the construction process.
So, what are the services you can ask of your architect? The services an architect could provide you may include site evaluation and pre-design planning, schematic design, and developing detailed drawings that will be used during construction and for pricing. An architect will also coordinate with structural engineers, negotiate construction contracts, and monitor the construction phase to ensure the project is being built according to the drawings and specifications.
How Do Architects Determine Their Fee?
The most common way that architects charge their clients is by total framed square footage. That is the total amount of square footage including garages, porches, and outdoor living spaces. Some architects choose to set their fee as a percentage of the total construction costs, based on a discussion about your expected budget. The price per foot or percentage will depend on what deliverables and responsibilities you're hiring them to perform. Again, there is significant value in having an architect on your project from beginning to end. The cost may seem significant at first, but you'll be glad you had an architect available throughout the complex process of building or remodeling your home.

Less common ways an architect may charge for their services are by the hour or flat, fixed fees. Hourly rates are typically used for smaller projects and tasks, such as drafting preliminary documents and plans or providing consultation. For whole home remodels or new residential construction, it's more likely your architect will charge you a percentage or charge based on the square footage of the project.
How to Find an Architect in Houston, TX
You can find potential architects by looking online, particularly on sites such as Houzz or the Houston Chapter of the American Institute of Architects. Also, check with your real estate agent or friends and families to see if they have any recommendations. Another way to approach the process is to hire your custom home builder first and then ask for recommendations based on who they've worked with on past projects. The added benefit of this method is you can be confident that the architect and your builder will already have a professional relationship, established communication methods, and experience overcoming obstacles on a project as a team.
You can also check out our list of the 12 Best Residential Architects in Houston.
Once you've created a shortlist of prospective architects, check out their portfolios and qualifications, as well as reviews and testimonials from homeowners. You can get a list of references for clients who have worked with a particular firm or individual in the past. During your interview with each architect, confirm what project management services they provide, their fee structure, and their process for collecting payments.
Throughout the design phase, and potentially into construction, you work closely with your architect, so it's important to find a person who understands and can capture your specific vision. For example, if you're renovating an older house in a neighborhood like Houston Heights, you'll want an architect who is familiar with the guidelines and best practices for historic renovations. Each architect also has their signature style and specific approach to doing business, both of which should align with your own expectations if you want to foster a productive working relationship and overall positive home building experience.
Working with Your Houston Architect and Builder
Some might assume that architects handle the design phase of a custom home while your home builder oversees the construction. Instead, hiring both professionals at the start of the design phase allows them to collaborate right from the beginning. Involving your Houston home builder during the early stages of planning and design enhances collaboration between them and your architect. Southern Green Builders is a Houston-based home builder that is dedicated to working alongside you and your architect to deliver your custom home or remodel within your budget and timeline. Contact Southern Green Builders for a consultation and let us guide you through the process and get you started on the way to a custom home designed and built just for you.