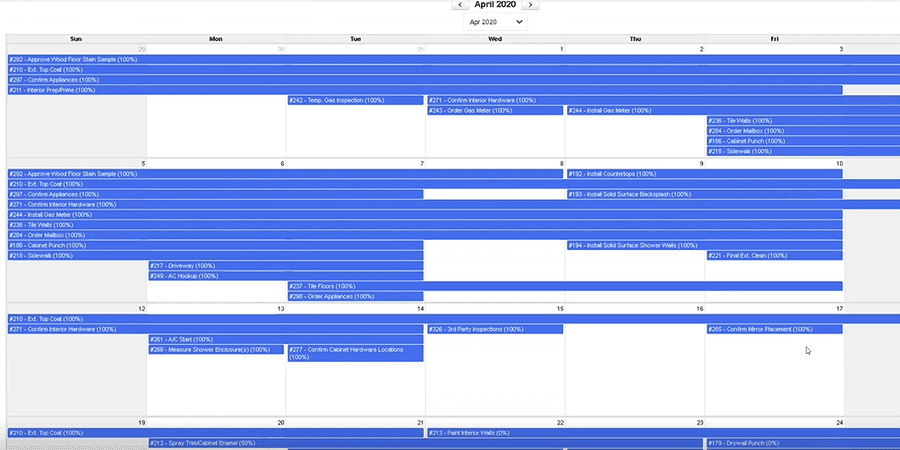 Your budget and your construction timeline are the two most important issues when building a custom home. How long your custom home build will take can affect starting a new job, getting your children started in a new school district, or other important life changes.
As a top custom home builder in the Houston area, Southern Green Builders understands the importance of properly managing the timeline of your construction project. Access to a real-time working schedule with daily updates helps you track the progress of your project in real-time.
First, What Is a Construction Schedule?
Construction schedules keep home building and remodeling projects on time and under budget by organizing each step of the process by its completion date so the team can continue moving forward. The benefits of a well-planned construction project schedule minimizes downtime, mitigates delays, and moves the project forward in an organized, timely manner.
After signing a contract with Southern Green Builders to build your luxury custom home, we establish an individualized construction project timeline. This happens during the pre-construction phase and is built around how long each activity takes to complete as well as the specific subcontractors who will be responsible for each task.
This detailed schedule allows us to manage material procurement and the coordination of equipment and labor. When implemented the Southern Green Builders way, the schedule becomes a daily reference tool. It helps your superintendent guide the project toward completion and keeps everyone on the same page during the pre-construction and construction phases.
How Do I Access My Construction Schedule and What's Included?
Southern Green Builders uses a construction management software called CoConstruct to give you access to not only the construction schedule for your home building project in the Houston area, but other useful features as well.
We chose CoConstruct as our project management software because it is a comprehensive and collaborative program. In addition to organizing schedules, specifications, and communication, CoConstruct streamlines sharing files and photos. File-sharing can be a major delay in construction. But with real-time updates to drawings, for example, waiting for files via email is no longer an issue.
What is included in your construction schedule and what are the other features?
1. Your Construction Project Schedule
CoConstruct's scheduling feature allows your custom home builder to develop your project's schedule, assign tasks to various team members and trade partners, and communicate with everyone to keep your job on track. It's designed specifically for your construction management team but also enables you to actively stay up to date with the project and plan for its completion.
2. Your Job Log
Another helpful CoConstruct feature is the daily job log that tracks on-site progress. If Southern Green Builders makes changes to the construction timeline, the changes are reflected on both the construction project schedule and the job log. View photos taken on-site during the day and see the progress unfold with your own eyes. After your new home is built, you will have a visual record of the project.
You'll also receive weekly alerts through project summary emails with updated job log entries and notes. This enables you to stay informed about the project's progress remotely, whether you haven't yet moved to the Houston area or you're escaping the summer heat and humidity with an out-of-town vacation.
3. Your Specs & Selections
Planning and designing a luxury custom home requires constant decision-making about material specifications, fixtures and finishes, and install locations. When you log into the CoConstruct system and go to the Specs & Selections page, you might see decisions that require your attention. As you make your selections and confirm various details, they are recorded in this section of CoConstruct and referred to throughout the pre-construction and construction phases.
Every appliance, fixture, window, door, paint, hardware, and more are correlated by code. You can see the brand, model, and other important information for each product being used, providing a high level of transparency of what is included in your home. By tracking these small details, Southern Green Builders is able to keep change order costs to 1% to 2% of your project budget, much less than the industry average.
4. Centralized Messaging
CoConstruct software also includes a messaging feature that streamlines communication between you and Southern Green Builders. Rather than having to search through your email account for messages related to your custom home building project, you can find them all saved in one convenient location on CoConstruct. All team members can easily refer back to past communications if questions arise during the construction phase.
Keeping Your Construction Project on Schedule
At Southern Green Builders, we understand the importance of building your luxury custom home on time, as well as keeping you consistently informed and involved along the way. Using CoConstruct, our team can easily and consistently communicate with you to ensure a positive home-building experience.
Contact us to find out more about the home building experience and how Southern Green Builders puts in the extra effort to give you a custom luxury home on time and within budget. Whether you've just begun thinking about a custom home and don't even have land yet, or are in the middle of interviewing architects to design your home, our experience and expertise in every stage of the process make us a great resource on which you can depend.