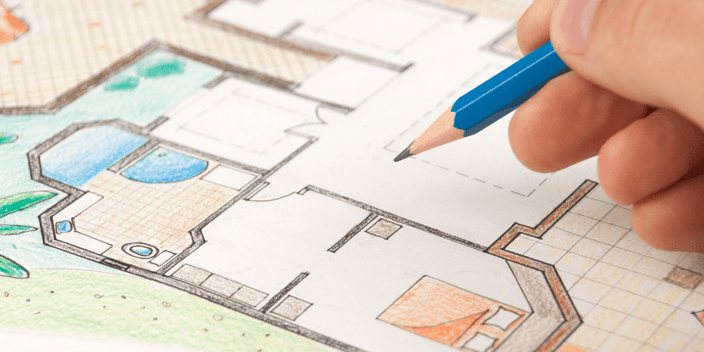 You can't build the custom home of your dreams without a proper plan in place, and there's no one better to help you design said plan than a qualified architect.
Selecting the right architect for your project is easier said than done, as there are several factors to take into consideration, from their experience and certification to what they charge for their services and their familiarity with your preferred home style. Additionally, you want to make sure the person you choose will collaborate effectively with you and your Houston home builder during the design phase to create a more seamless, positive experience for everyone involved.
What are Good Questions to Ask an Architect?
As you begin the process of finding an architect to design your custom home in Houston, ask for recommendations from people you trust. That may include family members, friends, neighbors, a realtor or other professionals who work in the construction industry. Since it's important for your custom home builder and architect to work well together over the course of your project, you might also ask your builder if they have a recommendation for an architect.
You can do preliminary research on each company by perusing their website and social media profiles, reading reviews and checking records to make sure the prospect is licensed, insured and not currently facing any legal challenges. However, the best way to narrow down your choices and select the best architect for your project is to meet with them in person for an interview. During this vetting process, here are some architecture interview questions to consider:
1. What is your past experience?
Before hiring an architect, it's helpful to get a general idea of both the quantity and type of projects they have worked on. While a wide breadth of experience is admirable, it's more important that they are competent and practiced when it comes to designing luxury custom homes specifically. Additionally, you want someone who has previously worked with your chosen architectural style, whether it be modern, transitional or craftsman. Also, find out how long they've worked in the Houston area, which could influence their familiarity with local building and zoning codes, design guidelines and permitting processes.
2. How does your design process work?
While the architectural design process is typically divided into a few standard phases—such as schematic design, design development, construction documents and construction administration—each professional has their own approach to the design process. It's important to find out how they operate and how you'll be involved in the process.
3. How do you charge for your services?
Architects normally charge clients one of four ways: an hourly rate, a flat/negotiated fee, based on the project's square footage or as a percentage of construction costs. There are pros and cons to each method, but all you really need to be concerned about is whether you find their rate acceptable and what their normal payment schedule looks like. Equally important, you should confirm what services they provide for their base fee, what additional services they offer and at what cost. Some helpful follow-up questions include whether there are any unexpected costs you might accrue that aren't covered in your contract, and how will these be presented to you?
4. How do you manage/control the budget?
Successfully managing a budget requires a team effort from you, your builder and your architect. Find out what measures the architect traditionally takes to keep the project within budget, as well as what they would expect from you as a client. Also, are they willing to work with your home builder to integrate suggested cost-saving measures during the design phase?
5. What is the estimated timeline for completion?
When you're building a custom home, chances are you're not looking to rush the process. However, setting a realistic timeline for both the design and construction phases is important to ensure the project runs smoothly. Find out how soon your prospective architect can start working on your project; if they will be designing other projects concurrently that could slow the process; and in general, how long they anticipate it will take to complete design plans for your new home.
6. Who will be my point of contact?
If you're working with a large architectural firm, it's important to ask if there will be one staff member dedicated to managing your project and how you and your home builder can stay in contact with them. If they are inaccessible, is there another staff member you can talk to? For a smaller firm or an independent architect, make sure they have the appropriate time and availability to commit to your project and that they can provide you the level of communication you desire.
7. Do you plan to be involved during the construction process?
Some architects simply craft your design plans and hand them over to you while others prefer to provide oversight during the construction phase. During your architect interview, ask what degree of participation they prefer or can commit to while your custom home is being built. At the very least, if questions arise about the plans during construction, will they be available to provide answers and clarifications?
8. What are potential challenges that may arise and how do you deal with them?
Ask your architect if they foresee any particular challenges to your custom home building project that could cause difficulties or make it go over budget. Are they willing to suggest alternatives to help you overcome various building codes hurdles or design challenges? What is their normal process for discussing such issues with clients and making changes to the design as needed?
9. Will you collaborate with my custom home builder?
To make your luxury home building process as smooth and efficient as possible, it's helpful to bring on both your architect and home builder from the start. This gives them the opportunity to collaborate and provide their unique industry expertise to craft a design for your home that looks good on paper and can also be feasibly built within your budget. Additionally, it enables your home builder to catch any potential construction issues during the design phase and to change your plans accordingly. Find out if your prospective architect is on board with the arrangement.
Teaming Up Your Architect and Home Builder
Before you hire a Houston architect, you want to make sure they're not only affordable, experienced and reputable, but also the right fit your particular type of project and approach. They also should demonstrate a willingness to work as a team with our construction professionals at Southern Green Builders, which is the most effective way to control budget up front and minimize scope creep.