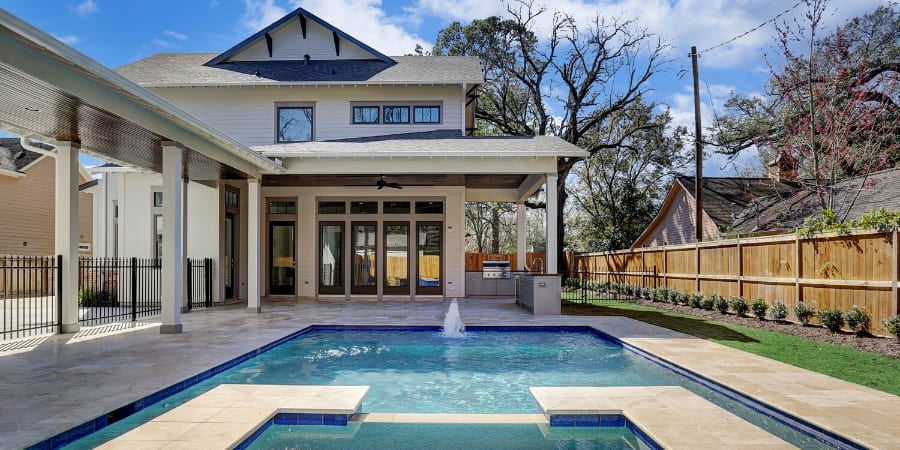 When preparing to build a new luxury home, there is a lot to be excited about, especially if you are building an energy efficient home. When things don't go as planned or project costs spiral unintentionally, however, the experience can become stressful for you and your home building team.
Two of the best ways to ensure both an efficient construction process and the desired outcome are controlling costs and managing expectations. As you embark on your home building journey, it's important to proactively take measures during the design phase to prevent large price overages that increase the final project cost.
What to Expect During the Design Phase
In order to permit and construct your new luxury home in the Houston area, two 'sets' of drawings will need to be created and combined in to what is referred to as the 'Construction Drawings'. This process begins with an initial meeting with an architect to discuss and understand certain basic details of the home including size (square footage), style, shape (exterior elevations), number of bedrooms, number of bathrooms, kitchen size and functionality, entry ways, living spaces (both indoor and outdoor) and any special features needed to accommodate your lifestyle. These details are captured in the first set of drawings, referred to as the Schematic Drawings. Typically, there are one to three iterations of the schematic drawings before the final layout and basic elevations are finalized. At this point it is possible for your builder to provide a ballpark estimate for the cost of the project. If this estimate falls in line with your expected budget, the process can move forward to the next phase - the Design Drawings set. During this phase, the architect adds specific dimensions and detail necessary to evaluate material quantities, specifications, and construction practices needed to actually build the home on site. Because the quantities are now more defined, it is possible to begin selecting finish items (tile, counter tops, plumbing and lighting fixtures, etc) or at a minimum establish meaningful Allowance amounts for each. At this time your builder now has additional details necessary to provide a more accurate (yet not final) pricing model for your project. The details provided in the Design Drawing set of plans allows for the development of the second 'set' of drawings to be created - the Structural Drawings. This set of drawings contains the specifications and directives concerning the home's foundation and framing to create the structure and support the loads according to specific calculations used by a licensed structural engineer, as well as specifications required for proper rain water mitigation and drainage. The final Construction Drawings combine the structural plans and architectural Design Drawings that become the set used to obtain the building permit in preparation to begin the actual construction process. A detailed final pricing proposal can now be created to be used in the contract needed for financing and the beginning of the building process.
To help control costs for your new home, your goal should be to carefully consider your options and make selections during the design phase before breaking ground. Periodic pricing proposal help ensure that you are within the budget parameters set forth in the beginning of the process - reducing the potential for cost overruns. Having the details and the costs associated with them clearly defined in the beginning provides a marker for any changes you may chooses to make during construction.
How Much Does it Cost to Make Changes?
The reason why you or your builder might request a change order varies based on the project. Some common reasons for change orders on residential projects include upgrades or scope reductions requested by you, errors or omissions in the drawings, specifications decided or changed after installation, the need for substitutions because of supply shortages or a specified material being discontinued. Some sources suggest anticipating as much as 10% of the total contract price for change orders. Without proper planning, that may be the case. Using the collaborative process at Southern Green Builders, we average less than 2.5% in change orders. In addition to the costs in terms of dollars and cents - there is is cost to the production timeline. Many times changes in construction require stopping scheduled activities, re-work and the mobilization time to get things moving again.
Additionally, if construction begins before you've confirmed the scope and made your selections, the construction contract price may include allowances for those undecided items so the project can move forward. An allowance is an amount of money determined by you and your builder that is simply a place holder intended to cover the finishing materials that have yet to be selected. While it may seem like this should suffice as a budget line item, it's impossible to price an item that hasn't been selected, so you're still basing your total project cost on estimates rather than hard numbers. This means it's largely up to you to stay within the scope of your defined allowance on those items. You can choose to get more expensive items if you want, but if they exceed the allowance you originally decided on with your builders, your total project cost will increase.
How to Prevent Change Orders and Price Overages
The best way to prevent excessive change orders and subsequent changes to your home building costs is to start with a well-defined scope of work and detailed plans and specifications before construction begins. You can optimize the design process by inviting collaboration between your home builder and the architect at the start of the plan design and development phase.
Your builder has a wealth of industry knowledge and experience that provides helpful insight as you are making selections and designing your new luxury home. Some things may look simple on paper, but are actually complex to construct. Gaining this insight from your home builder while you're still mapping your dream home on paper empowers you to make confident decisions and set clear expectations. Additionally, nailing down as many details as possible and incorporating them in to the construction drawings enables your home builder to develop a more accurate budget and keep price overages to a minimum.
Controlling Custom Home Build Costs
At Southern Green Builders, we want you to feel confident while undertaking your custom home building project in the Houston area. We work with you during the design phase to establish specifics before the contract is signed, which helps decrease the risk of extending the project completion date or unintentionally increasing your total project price due to change orders.