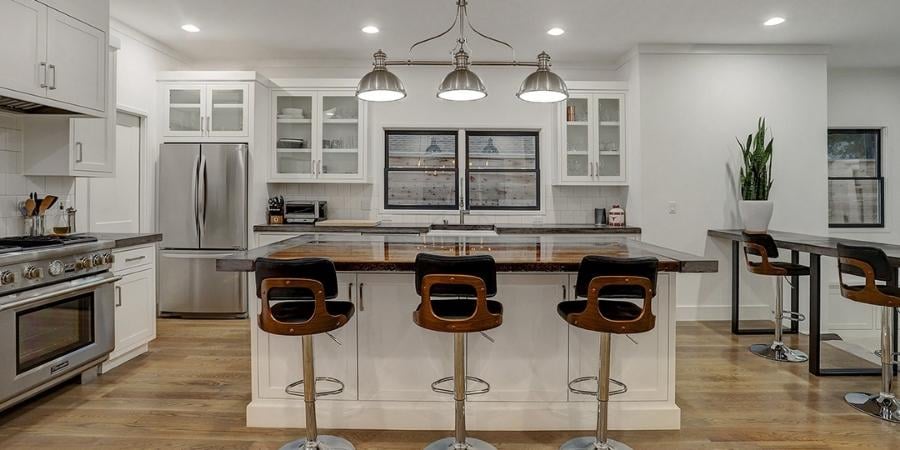 Many home design trends come and go, which can make designing a new home challenging. Will you find yourself looking to remodel in only a few years? You can avoid having to make big changes down the line by implementing more timeless designs in your custom Houston home from the start. Whether you would like to enjoy your home well into the future or perhaps plan to sell in just a few years, it is best to choose design elements that will stand the test of time.
What Are the Timeless Home Design Trends in Houston?
Design choices like furniture and paint are an investment, but much less of one than a complete kitchen remodel or changing all of the finishes in your master bath. When working with your architect and designer to build a new home, keep in mind the value of going for timeless design trends. As you think about flooring, layouts, finishes, and even your outdoor spaces, look for opportunities to choose timeless styles for your custom home. Here are five timeless trends for your Houston home you can depend on.
1. Designated Spaces
Open floor plans sometimes provide too little privacy in a time when needed seclusion from the rest of the family has become a highly valued commodity. The traditional structure of separate rooms with designated uses is making a big comeback in new home construction. Designers and builders are seeing an increase in interior walls to create these spaces. However, adding pocket doors and archways to your custom Houston home also offers the ability to define spaces without the permanence of a wall. The timeless form and function of pocket doors also lend versatility if reopening the space is needed.
The driving force of this resurgence is the home office. Consider built-in shelving and custom inset cabinetry to keep your space organized. The home office is here to stay, so be sure to choose high-quality organizational elements that will best work for you for years to come. How you use your office will also dictate what finishes and fixtures to choose. Work closely with your Houston home designer with these specific needs in mind.
2. In-Home Luxury Retreats
A luxurious bathroom is a mainstay of Houston home design, but its importance in new homes has increased dramatically in the last two years. With travel being limited, homeowners are seeking resort-level designs that elevate timeless interior trends. A freestanding tub is the timeless centerpiece of the bathroom and is available in many shapes and styles, from traditional to modern. Enhance its presence with custom tile inlays on the wall above or the floor below. Wall-mounted fixtures are also a nice touch.
Pair timelessness with technology by incorporating modern advances to best enjoy your in-home retreat. Radiant heating installed beneath the floors, using electricity or Hydronics, warms the tile or stone floors, making your luxury bathroom retreat even more relaxing. Yes, even in Houston, homeowners are opting for radiant heat for both comfort and cost-efficiency. You could also enhance your shower experience with Bluetooth technology for music and podcasts and hydrotherapy for therapeutic pain relief and well-being.
3. Visual texture
As people are spending more time at home, the desire for a personalized environment filled with richer, more interesting textures and tones has designers and homeowners going back to timeless decorating styles. A major departure from the minimalism trend we've seen throughout the last decade, these timeless styles include visual texture through upholstered headboards, lush drapes, stripped wood, and patterned wallpaper. Trends come and go, but these charismatic elements have made their return in home design time and time again.
A particular style that's proven its timelessness is the farmhouse style. Houston home designers are seeing this style stand the test of time by evolving with trends while keeping its foundational elements intact. Think stripped wood, custom tile patterns, neutral tones, and welcoming textures. Some architectural elements, such as exposed reclaimed beams and hardwood floors, are examples of both foundational elements of the farmhouse style and timeless design choices with excellent resale value.
4. Natural Light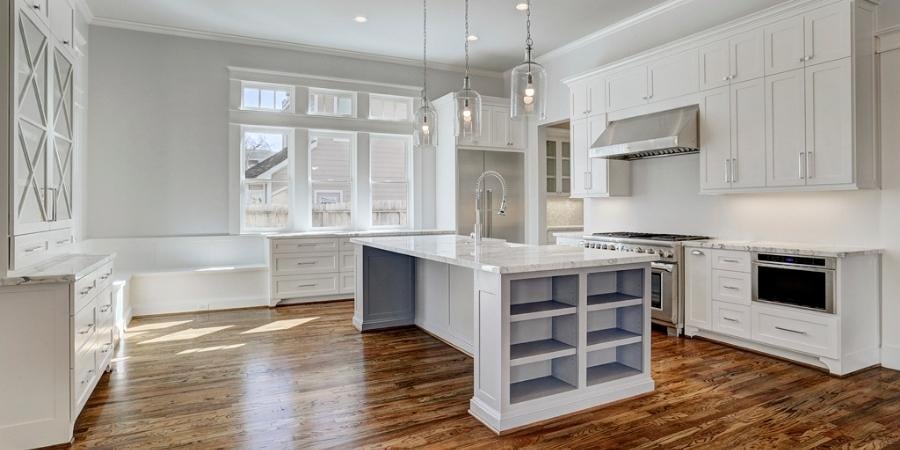 Few elements are more timeless in home design than natural light. Whether by way of a skylight, large windows, or the clever use of fixtures and high gloss paint, home design trend-watchers note year after year the desire for light-filled spaces. Using light as a design element does take proper forethought, however. Working with your Houston home designer to capture every opportunity is imperative.
One advantageous consideration includes installing a skylight in your master bath, kitchen, or walk-in closet. Skylights have been used for decades to bring more light into spaces that often see less access to windows than other parts of the home. They have also come a long way in terms of durability and resistance to leakage. Another opportunity is in the finishes. Glass subway tile for the kitchen and bath is a timeless interior trend that offers both form and function. Its reflective nature will bounce light through the space and the style shelf life of the subway tile means you won't feel the need to update your backsplash for quite a while.
Additionally, the right paint choice can go a long way in filling a space with natural light. White tones in a glossy finish are the best options for carrying light further into space, but far from the only option. Pale blues, soft yellows, and cool grays also offer light-carrying qualities and a little more personality to the timeless decor element of natural light.
5. Outdoor Entertaining
Another timeless element of home design is space for entertaining. At-home entertainment by way of dinner parties and movie nights never went away, but has recently grown in popularity even more. This is especially true for outdoor entertaining. Home designers have noted an increase in the addition of pergolas, covered decks, and other outdoor living spaces. Work with your designer to plan for a dynamic outdoor living space fit with areas to dine, cook, and play. Outdoor cooktops and weatherproof custom cabinetry allow you to bring the dinner prep outdoors while enjoying the company of your guests. Additionally, think ahead and plan for space for yard games and play equipment.
Before planning the details of your outdoor space, consult your designer about the location, flood risks, and other site-specific requirements that could affect your design. Amenities such as a pool or deck may or may not fit within the guidelines of your location. Site information is important to be aware of before the design process is too far along.
When you are designing and building your new custom Houston home, you should choose a builder you can trust to understand what is most important to you. Southern Green Builders knows the importance of quality materials and construction and will work with you to ensure your timeless design is realized. Southern Green Builders specialize in building luxury homes in Houston. Contact the custom home experts today and begin the process of designing your timeless custom home.