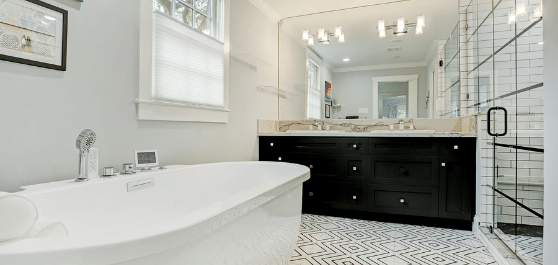 With the right features, a bathroom can become your own personal spa. Here at Southern Green Builders, we specialize in building custom homes designed to suit your lifestyle, to compliment your sense of style, and to provide a truly comfortable space. Over the years, we've helped clients create custom bathrooms that dramatically enhance their quality of life. Here are a few of our favorite bathroom features we've built into our clients' homes.
8 Luxury Bathroom Items to Include in Your Custom Home
There are many ways to get the best bathroom experience for your new custom home. They all start with intelligent design and the incorporation of luxury features tailored for you. Southern Green Builders can help you get the most out of this very important space through thoughtful design and execution. To start, here are eight of the most popular and best-reviewed luxury bathroom features to consider when design your custom home.
1. Freestanding Tub
A perennial classic that goes well with any upscale bathroom, freestanding tubs are beautiful, functional, and provide a unique focal point in the space. They can be made to double as a freestanding shower with the right rail attachments, curtains and thoughtful shelving. Any model you choose will draw you into long hot baths enjoyed in style.
2. Steam Shower
A steam room session is great for your skin and your overall health. It's also a relaxing way to spend time. Why not transform your existing shower into a place to indulge in relaxation and detoxification? When designing a shower that doubles as a steam sauna, it is important to be mindful of the size of the steam appliance and proper tiling and enclosure to maximize the experience.
3. Specialty Tile and Inlays
Nothing adds ambiance and class to a luxury bathroom like quality tile design. Unique patterns and inlays provide an elevated level of finish, and contributes to the overall design of the bathroom. Additionally, stone or solid surface slabs can be ideal for that rich and refined feel that luxury baths are known for. Don't forget, incorporating designer drain covers can be a great way to add style and function as well.
4. Shower Fixtures, Rain Head, Hand Sprayers, and Body Sprays
Enough with style elements, how about something to enhance the function, utility, and therapeutic effects of your shower and bath? For this, the rain-head style showerhead, handheld fixtures, and wall mounted body spray heads will make getting clean a truly enjoyable experience. Combine the rain shower head with a massage hand-held fixture for the ultimate therapeutic shower experience.
5. Wall Mounted Faucets for Luxurious Bathroom Vanities
Nothing gives the bathroom that high-end design feel like wall-mounted faucets, coupled with exotic bathroom sinks, and luxury bathroom basins for vanities. As this trend continues to grow in popularity, manufacturers of plumbing fixtures continue to increase production of beautiful and unique pieces that can be the centerpiece of powder or secondary baths.
6. Humidity Control Devices
Hot, humid air in the bathroom is a nuisance and can cause damage not only to the space over time, but also to the ability to achieve that perfect hairdo . You can prevent that potential damage by installing smart and effective exhaust systems. There are many worthwhile products to choose from, but we recommend the BROAN system with humidity sensing switches. These advanced devices detect moisture and activate when moisture is present. They are reliable, durable, easy to use and look great in any bathroom.
7. Skylights
Letting in natural light from above is a great way to get the most out of your luxury bathroom, while saving wall space and increasing privacy. Skylights have come a long way since the 90's, and products available today provide a ton of additional natural light without the risk of leaks and clouded glass.
8. Toilets
Not to be forgotten, high-quality and luxury toilets do more than add comfort and style - They can be self-cleaning, and have heated and self closing seats. Additionally, bidets and similar features help ensure a complete and hygienic daily toileting — something that's as good for your health as it is for your comfort.
Depending on the size of your custom bathroom fitting all of these elements might not be possible. What's important is to install the features you will use, enjoy, and benefit from most. That's why our team will work with you closely to find the best layout and feature tailored for you.
To learn more, and start building your perfect bathroom, get in touch with the custom home experts here at Southern Green Builders.