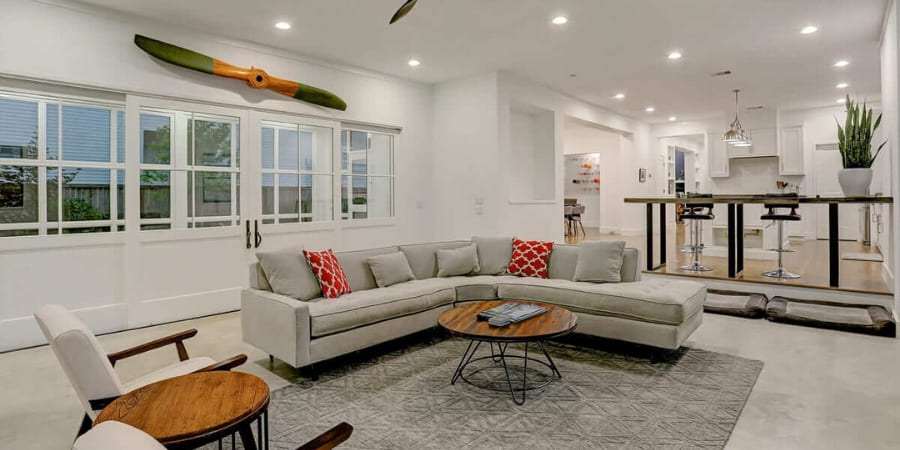 Many homeowners reach a point where they realize the home they're living in is too small or no longer fits their evolving needs. If you still love your home but want more space, you have to decide: Move or improve?
When you need a bigger home or want to create a new space—such as a media room, guestroom, or accessory dwelling unit (ADU)—there are pros and cons to both adding to your existing Houston home and buying an entirely new residence that already includes the square footage you desire.
Is It Better to Move or Renovate?
Everyone's home, budget, circumstances, tastes, and priorities are unique, so there is no definitive answer when it comes to whether renovating and building onto your current home or buying a new house in the Houston area is the better option. Here are a few things to consider as you decide what is right for your situation:
1. Your Attachment to the Neighborhood
One of the factors to consider isn't even about your home but the community surrounding it. Do you enjoy your neighbors and the relationships you have built with the people around you? Is your neighborhood within walking distance to your favorite restaurants, bars, boutique shops, galleries, or parks? Do you have your desired commute to work? Are your kids in a great school district? If you love the area where you live or the people you are surrounded by every day, renovating your home to make more room may be preferable.
2. How Much You Will Need to Renovate
Is there one or two new spaces you would like, such as a home theater, and extra bedroom or a larger kitchen? Are you generally dissatisfied with the entire layout of your home and how it fails to meet the needs of your daily lifestyle? If extensive remodeling and creating an addition are necessary to give you the space you desire, do some research and be prepared for both the time and financial commitment required to complete a large scale residential construction project. It's good to engage in a conversation with a builder early to begin to understand the costs and feasibility for the work needed to achieve the finished product you have in mind. Once you understand these costs, it is easy to understand what your financial position is with the property you own to compare re-sale prices in you neighborhood. Besides financial considerations, however, you may have other compelling reasons for staying put, which could make your extensive remodel worth every penny.
3. The Risk of Over-Improving
Even if a good return on investment (ROI) for your remodel project isn't a high priority compared to the enjoyment you will receive from the extra space, it's still worth calculating what costs you can expect to recoup if you sell your home in the future. Another issue to factor into your decision-making is the financial risk of over-improving, or creating an extravagant home in a mid-priced neighborhood with smaller homes. Fortunately, in neighborhoods such as the Historic Heights, average home values are around $540,000 and there is precedent for a remodeled home with premium finishes to exceed $1,000,000, making remodeling your historic home a worthy investment.
Should You Build New or Buy Existing Property?
If you've decided that adding on to your home or remodeling won't be sufficient for creating the space you need, your next options are to purchase land in the Houston area and build a new custom home or find a home for sale on the market.
Just as making an addition to your home can't solve certain issues—such as the home type or lot size—buying a new home someone else designed also has its limitations. Even in a city as large as Houston, it can still be difficult to find a home on the market that checks all the boxes in terms of floor plan, specialty rooms you need, location, school zone, and spaces constructed specifically for your lifestyle.
If you buy a bigger home in the Houston area that's close to what you want but not exactly, you still face the need for remodeling the house and spending more money in the near future.
Perks of Building a Custom Home
To get exactly what you're looking for, a great option option is to build a custom home in a neighborhood you like or on a piece of land you already own. Through the design and build process, you can achieve a new home that already includes the personalized space and specific upgrades you desire. Southern Green Builders handles home additions and remodels as well as custom home builds in the Houston area. Whether you decide to move or improve, we can help you create the home and space you're looking for.