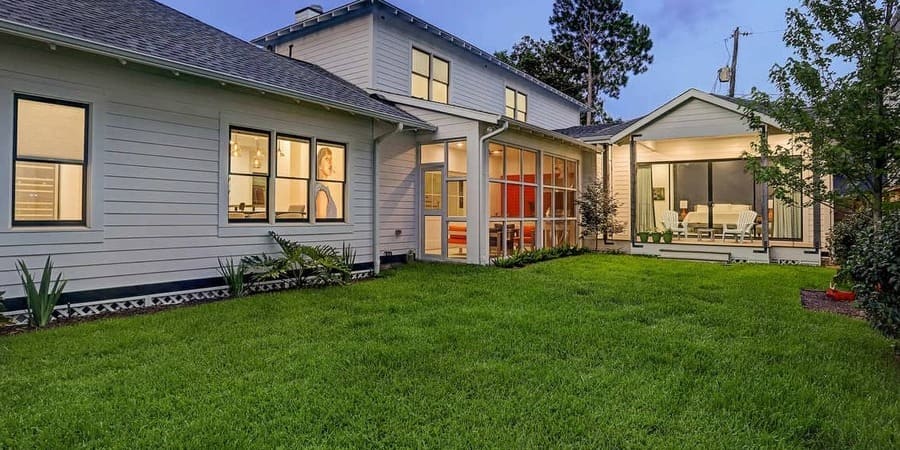 Buying land is the first step in a long and exciting journey to building your custom home. The location, size, and proximity to everyday conveniences are just a few of many qualities to look for when shopping for your new property that could affect the cost of building a custom home. Before you make an offer on land in the Houston area based on only one or two of these qualities, think about what else you should look for when buying land, what you should know before buying, and what questions you should ask. This list is a great start to learning more about your potential property.
1. Is the lot on a 100-year or 500-year floodplain?
When a property is said to exist on a 100-year floodplain, this means that the land has the probability of a 1-in-100 chance, or 1%, of flooding in any given year. Concurrently, a 500-year floodplain means the area has a 1-in-500, or 0.2%, chance of flooding any given year. Rather than thinking about frequency, the probabilities are based on how much rain falling in what period of time will produce flooding.
It's important to note that the FEMA maps for Harris County were updated in 2016, so be sure to check the federal website for the updated map. After all, 100-year and 500-year floods have happened a few times over the past several years but plenty of land in Houston is outside of these areas. A few of the neighborhoods in Houston that aren't typically prone to flooding include Houston Heights, Afton Oaks, Pearland, West University Place, and Hyde Park in Central Montrose.
It is possible to build on land that floods, as well. The image below shows a home with a first floor elevated above the flood plain. During a flood in this area, the homes next door would flood, but this Southern Green Home would not!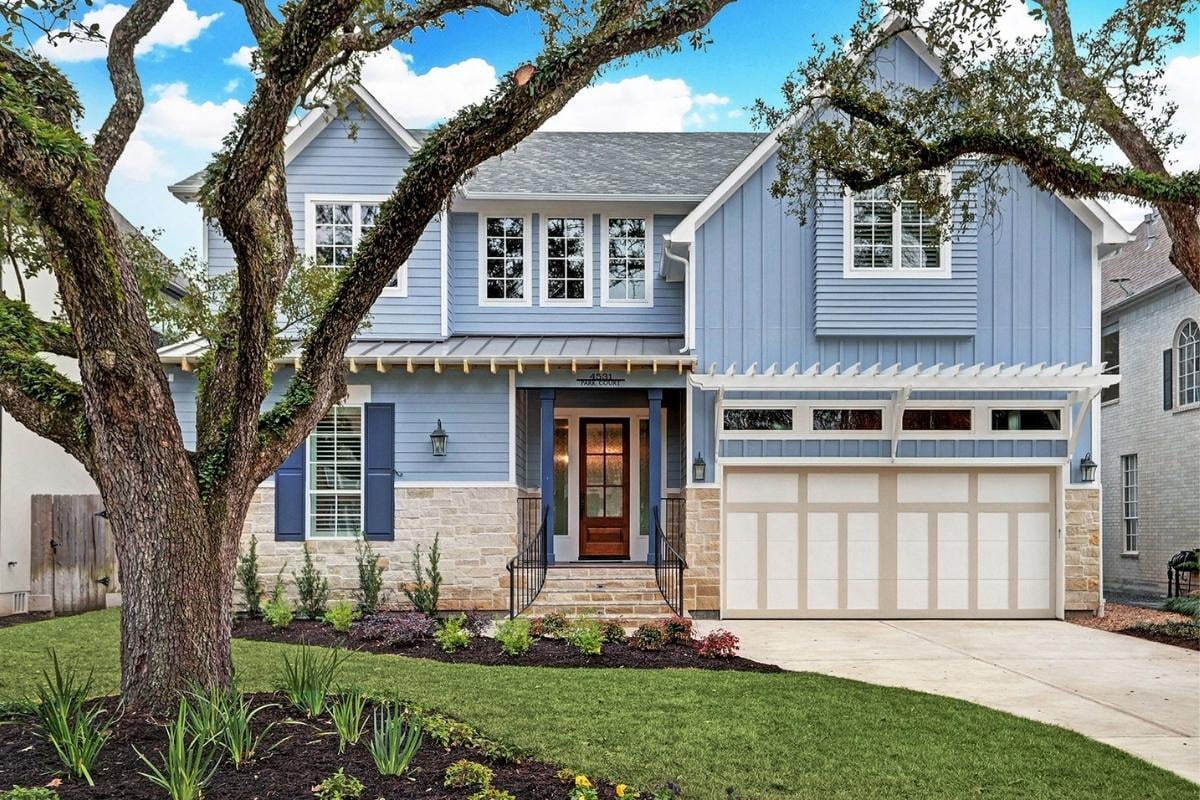 2. Are there any environmental hazards?
Environmental hazards aren't always obvious to the naked eye, but they can be detrimental to both your property and your family's well-being. Ask the seller upfront if there are any environmental hazards to worry about, such as polluted water sources or contaminated soils. This is not something you would want to learn after making the investment. Regardless, have an environmental assessment done to ensure the property is a safe location for your custom home.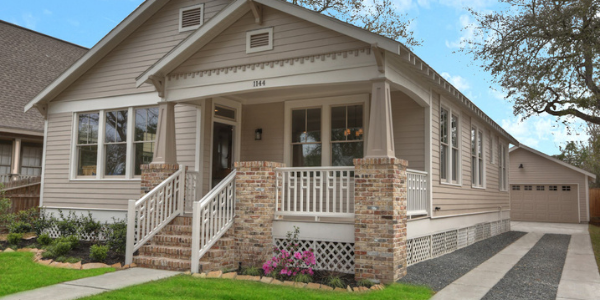 3. Are there any easements or deed restrictions in place on the property?
There are several different types of restrictions and allowances that can be placed on a property depending on who has owned it in the past, what it was used for, and how the land was intended to be used. Before buying land in Houston, ask the seller or realtor if there are any of these types of restrictions on the property.
Some can be removed while others cannot. For example, a conservation easement can prevent you from clearing and using parts of the property for building your home and was enacted by the government while an easement by necessity is an agreement between neighbors for one neighbor to access their own land by passing through the other neighbor's property. Another example is an easement held on the property to enable utility companies access to run lines or other types of infrastructure. Some easements transfer with the property while others expire when the property changes hands. In either case, a title search will show any easements on the land.
Deed restrictions can limit what you can and can't do on your property. A deed restriction can affect how large or small a dwelling built on the land can be, regulations around auxiliary structures, or limits on materials and styles. Check with your county clerk's office to find out if the property has any deed restrictions in place. It is possible to have these removed, but the process may not be worth the effort.
4. What city regulations would apply to the land?
You also should find out what local planning and building codes you would have to follow. For example, septic systems are no longer legal in Houston. When land deeds are transferred over, new property owners must disconnect and remove septic systems that are currently grandfathered in, and tap into the municipal water lines instead.
Other regulations and codes could mandate that you build a sea wall if you're on the waterfront, restrict your use of solar panels, or require a boundary setback. Every county and municipality is different. Check with the governing body to ensure the property you're interested in doesn't come with regulations that would prevent your custom home design goals from being reached.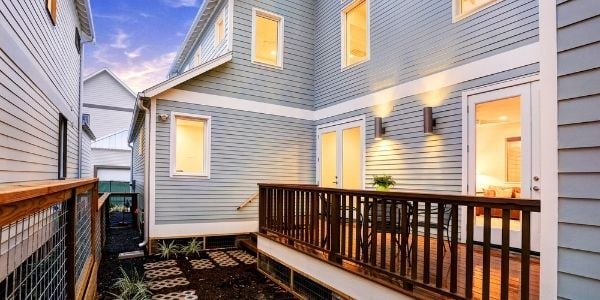 5. What are the HOA regulations?
Homeowners Associations (HOAs) provide value to the properties under their jurisdiction, but as their objective is to maintain the best communal living experience, they also have rules and conditions for property owners to follow. Some common rules apply to property maintenance and home designs. HOAs in historic neighborhoods in Houston also tend to have unique standards. Check to see if the land you are considering is in a neighborhood with an HOA and what rules and regulations to expect.
See also: Apply with the Historic Commission to Remodel Your Home in Houston
6. What are the neighborhood home value comps?
If you're buying land in a Houston neighborhood that contains other residential properties, evaluate homes that are comparable in size and style to what you're planning to build. You can obtain home value comps by researching listings and records of recently sold homes in the neighborhood. Finding this data ahead of time can prevent you from purchasing land and building in an area with lower comps than the cost to build and the appraised value of your luxury custom home.
7. Are the boundaries of the property clearly marked?
Unclear boundaries can create future problems between adjacent landowners, so you'll want to make sure there are no uncertainties when it comes to property lines. Ask the seller if a land survey has been completed recently, which should provide you with up-to-date boundaries for the property you're considering.
8. What amenities and services are nearby?
Get to know where the nearest schools, fire stations, grocers, and other needed community amenities are before settling on a property. Living in a somewhat remote part of town could come with perks, namely privacy. But driving 25 minutes rather than 5 minutes to your favorite grocery store could impact your quality of life in a way that may leave you with regrets. Other services and amenities that might be important to you and your family could be hospitals or clinics, parks, restaurants, or your workplace. Making sure the amenities near your property are best-in-class will ensure a good quality of life for your family.
9. What are the available utilities?
The land may or may not have direct utility connections. If the land doesn't, you'll have to determine how to get water, electricity, gas, internet, and other utilities to your home. In some cases, running lines to a new home is covered up to a certain length, but you'll want to be sure of the possible expenses before you purchase the land to avoid unpleasant surprises. A real estate agent should be able to give you this information or point you in the direction of how to get this information.
Buying Land and Building a House Process
As you begin your search for land in the Houston area, keep in mind that doing your homework on the front end will save you time and grief later on when it's too late to walk away. Of course, you don't have to go through this process alone. A trusted custom home builder can be your best resource when shopping for property. Southern Green Builders is an established custom home builder with the experience and know-how to help you make informed decisions about the property that best suits your custom home design goals. With our network of industry experts, Southern Green Builders is an excellent resource for every step of the home building process. Contact us today to take the first step on your custom home journey.