Land acquisition can be valuable choice, empowering you to build a custom home not only how you want it, but also where you want it.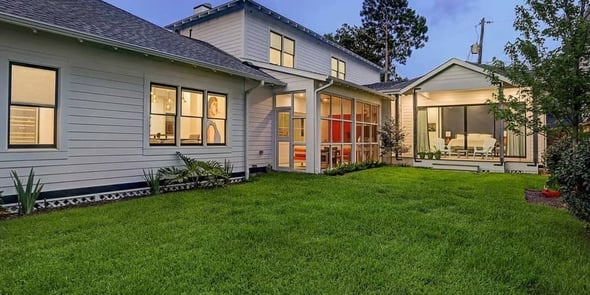 The Houston area has several neighborhoods that offer property that is perfect for establishing your new home. Before you buy land in Houston, however, it is important you perform due diligence as a buyer to research and gather data, which enables you to make an informed decision about this major investment.
Questions to Ask When Buying Land
Purchasing property for a home building project takes time and effort. As you look at what's available on the market, here are some key questions to ask when buying land in the Houston area:
1. Is the lot on a 100-year or 500-year floodplain?
Geographic areas are given different floodplain designations based on their level of flood risk. It's important to be aware of flood hazards, so you can take necessary precautions when it comes to building your luxury custom home. A 100-year floodplain is any area with a 1% annual chance of flooding, whereas 500-year floodplains are areas of minimal flood hazard. A few of the neighborhoods in Houston that aren't prone to flooding include Houston Heights, Afton Oaks, Pearland, West University Place, and Hyde Park in Central Montrose.
2. Are there other environmental hazards to be aware of?
Environmental hazards aren't always obvious to the naked eye, but they can be detrimental to both your property and your family's well-being. Ask the seller upfront if there are any environmental hazards to worry about, such as polluted water sources or contaminated soils. If that is the case, you should consider having a professional environmental assessment done to ensure your full property awareness before making any binding decisions.
3. Is the land under conservation easements?
Before buying land in Houston, ask the seller or realtor if there are any conservation easements on the property, in addition to bodies of water that are affected by the Environmental Protection Agency and U.S. Army Corps of Engineers' Waters of the United States (WOTUS) regulations. Conservation easements can prevent you from clearing and using parts of the property for building your home.
4. What city regulations would apply to the land?
You also should find out what local planning and building codes you would have to follow if you purchased the land and built a custom home on it. For example, septic systems are no longer legal in Houston. When land deeds are transferred over, new property owners must disconnect and remove septic systems that are currently grandfathered in, and tap into the municipal water lines instead.
5. What are the HOA regulations?
Homeowners Associations (HOAs) provide value to the properties under their jurisdiction, but as their objective is to maintain the best communal living experience, they also have rules and conditions for property owners to follow,. Some common rules apply to property maintenance and home designs. HOAs in historic neighborhoods in Houston also tend to have unique standards. Check to see if the land you are considering is in a neighborhood with an HOA and what rules and regulations they impose.
6. What are the neighborhood home value comps?
If you're buying land in a Houston neighborhood that contain other residential properties, evaluate homes that are comparable in size and style to what you're planning to build. You can obtain home value comps by researching listings and records of recently sold homes in the neighborhood. Finding this data ahead of time can prevent you from purchasing land and building in an area with lower comps than the cost to build and appraised value of your luxury custom home.
7. Are the boundaries of the property clearly marked?
Unclear boundaries can create future problems between adjacent land owners, so you want to make sure there are no uncertainties when it comes to property lines. Ask the seller if a land survey has been completed recently, which should provide you up to date boundaries for the property you're considering.
8. How is the property accessed, and what are your transportation options?
Another thing to look for when buying land to build a house is how the property is accessed. There are two main ways to get to a property: a frontage road, which gives you direct access, and deeded access, a two-party system shared with your neighbor. If the land you're considering has deeded access, talk with the neighbor who owns the means of access to clarify the agreement. In terms of transportation, is the property situated where you can easily access Houston's METRO bus system or METRO light rail? Are their sidewalks and biking lanes along nearby roads? It's good to figure out ahead of time what modes of transportation would be available to you.
9. What school district services the neighborhood?
If you have a family with young children, or plan to have one in the near future, local school districts are another important consideration. There are dozens of school districts and private schools that service Harris County and the greater Houston area, and their quality ranges in terms of academics, extracurricular activities, special programs, and the overall student experience. One of the primary reasons people are leaving the city of Houston for the suburbs is because they want to change school districts. Find out the school district to which your kids would be assigned based on the location of your prospective land acquisition and if you are satisfied with the educational opportunities provided.
10. What attractions and public amenities are nearby?
Where you build your new custom home affects the quality of life you can expect living on the property. Make sure you approve not only of the land itself, but also where it is in proximity to important establishments—such as a hospital or medical center—as well as stores, restaurants, parks, and other places you visit on a daily basis.
Buying Land and Building a House Process
As you consider what to look for when buying land in the Houston area for your new custom home, keep in mind it's better to take your time exploring and researching than to wind up with a piece of land marred by various issues that complicate your custom home building process. Once you've acquired the ideal piece of land in the Houston area, Southern Green Builders can help you make the best use of it by creating the custom home you envision.