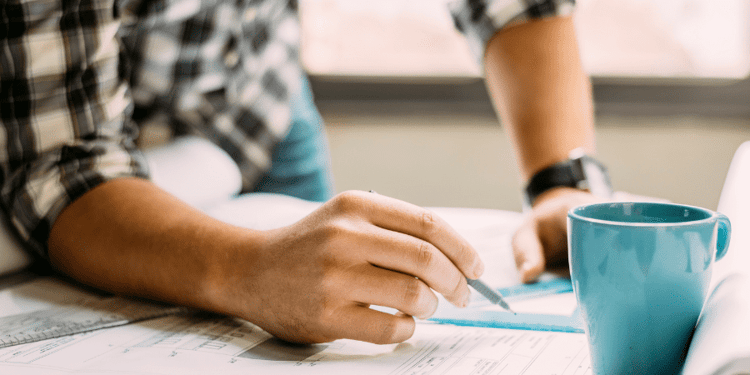 Before you can build your new luxury home in Houston, you must first spend some time designing the structure and customizing it to suit your lifestyle needs and personal preferences.
While it sounds simple enough, the process of drafting a design for your custom home can be complicated and at times time-consuming. Because you are personalizing each aspect of the home, there are numerous decisions to be made that will affect your quality of life for years to come. It's also important to find a balance between feeling confident about each decision to minimize change orders and budget overages during construction and working efficiently so the design phase doesn't drag on indefinitely.
How Does the Architectural Process Work?
As you set out to build your new custom home in Houston you will have two important players on your team: your architect and your home builder. Ideally, both of these professionals are brought into the project near the beginning so you can benefit from their unique skills and expertise throughout the whole process.
Not all custom home architects take the same approach to designing blueprints for new home builds. Whether you work with an independent contractor or an architectural firm, you may experience different practices, protocols, and even price points. It's important to consider these and other factors when hiring a Houston architect. Despite any differences, though, there are a few major steps you can expect to encounter when working with an architect on your custom home design:
1. Programming Phase
During the programming phase, you will be asked to consider what you want both functionally and aesthetically for your home as part of a process that begins the process of moving your vision for the home from your mind to paper. Through discussions with your architect and home builder, you identify and define the scope, purpose, and features of each aspect of your new home. You also will start to discuss your preliminary budget. Developing a well-conceived program is critical to creating a high-quality design that fits well within its surroundings and serves your family over the coming years.
2. Schematic Design
Next, you will start the official design phase, during which your architect helps further translate your vision onto paper in further detail through a series of rough sketches that slowly become more defined. Through a lengthy back-and-forth process, you will provide input on each iteration of the plan and then your architect will make revisions until you have developed house plans with which you're satisfied. During this stage, your builder will provide you with a preliminary estimate of your construction costs based on your drawings.
3. Design Development
From the schematic design phase, you will move on to design development. At this point, your architect will begin to incorporate specifics and dimensions into a design that is feasible to build within your specified budget. During this step, your architect and home builder team will work out coordination issues and evaluate how various systems, material selections and other details fit into the schematic design concept.
4. Creating Construction Drawings
Finally, your architect and engineering team will prepare construction drawings for your new custom home that are suitable for permit submittal. These plans must be thorough enough that they can communicate all the components and specifications of your project to the various people involved, including trade partners and construction crew members. Your team will also consult with specialists such as electricians, interior designers and civil/structural engineers to ensure all details for the house plans are addressed. (And when we say all the details, we mean ALL the details, down to the last screw).
How Long Does It Take an Architect to Draw Plans?
Designing your new luxury home may take a bit longer than you initially expect. Many prospective homeowners expect the process to last about two to three months, from the initial vision session to creation of construction drawings. However, more often than not, it takes closer to six months to complete your house plans, when all is said and done. Only then can the ground be broken and construction started.
Tips for Maximizing Efficiency During Design
As you're developing plans for a custom home in Houston, it's important to realize up front that you could design and make changes ad infinitum and never feel 100% confident about your vision and how it's being translated on paper. You have the opportunity to create and customize your dream house, so it's natural to want to make sure everything is perfect.
You should expect there to be continual dialogue between you and your architect and your home builder while developing your house plans. As they gather data from you about what you want to see included, they'll provide a new iteration of the drawings for you to review. You can then approve the plans or request additional changes as many times as you want, but these iterations are what cause a 3 month timeframe to evolve into a 6 month timeframe.
Keep in mind that while some back and forth for a few months is a common part of building a custom home, indecisiveness and constantly requesting changes to the house drawings will inevitably lengthen the design process. Additionally, each revision to the scope of work or request for a different type of material will ultimately affect the cost of construction.
There has to come a point where the house plans are considered final—and no more revisions are to be made—so they can be submitted for permit approval. This is one more reason why involving your home builder in the design process is imperative to maximize the efficiency of planning and preparing to start construction on your new house.
Collaborating with Your Architect and Home Builder in Houston
At Southern Green Builders, we not only provide quality construction services but also valuable pre-construction services to help make the entire luxury home building process smooth and efficient. Additionally, our involvement during the design phase is vital for managing expectations, controlling costs and preventing change orders during construction.
We have developed a proven system to help you stay on track during the design phase and make decisions in a streamlined, productive manner to capture your vision and bring it to fruition within a set timeframe and budget.