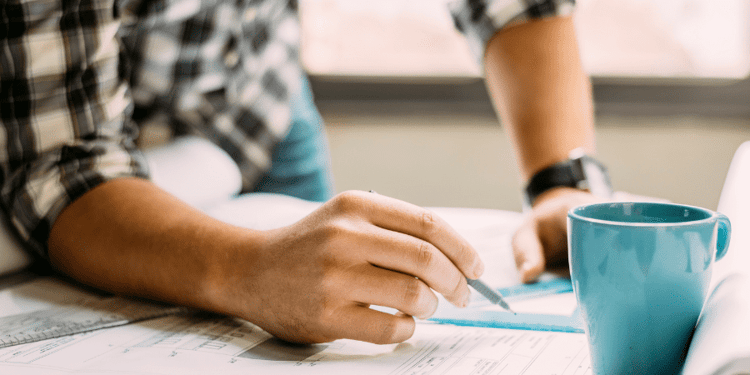 Like many things involved in custom home building, the answer is: It depends. From your availability to schedule meetings to the permitting process, the length of time can vary. On average, expect the process to take around four to six months. But what phases take place in those four to six months to design your custom Houston home?
What Is the Architectural Design Process?
There may be nuanced differences between different architects and their practices, but you can expect a standard series of phases across all professionals.
1. Pre-Design Phase
The focus of this phase will be your custom home wants and needs, and the feasibility of your project. Technical considerations, like a zoning study and a site analysis, are performed prior to talks about the home design to get a better understanding of the site and its possible limitations. This helps the architect create a design that will work with the property you have and save time in the long run.
Next, you'll be asked to describe both how you expect your home to function as well as the style that interests you. Your architect will depend on your vision, description, challenges, and ideas to create something specific to you and your family, so it's a good idea to come to the table with a lot of information by way of notes and pictures.
Consider using apps, websites, and pictures you've taken as inspiration and information for your architect to use in this phase. From here, your architect and custom home builder will be able to begin shaping a preliminary budget.
2. Schematic Design
During the schematic design phase of the process, your custom home design will begin to take shape. As your architect renders your vision into an actual design, your input as to how spaces shift and move on paper–or computer–will eventually form the design plan.
This part of the architectural design process will consist of a lot of meetings and communication between you, your architect, and your custom home builder to ensure that your needs are being met through workable solutions. It's at the end of this phase that a project estimate can be made.
3. Design Development Phase
During this phase, you'll work with your architect to choose everything from floors and fixtures to windows and appliances. This phase can be a lot of fun for homeowners but it's also a lot of decision-making. Look to your architect and home builder to guide you through the process to avoid decision fatigue. Budget will shape many of your decisions and don't forget about those helpful images you used during the schematic design to help narrow down the choices you're given.
Your team will also determine mechanical systems at this point, including plumbing, electric, and ventilation systems. By the end of this phase, your exterior and interior plans will be finalized and you'll be able to see a computer-rendered design of your future home.
4. Construction Documents
At this point, the architect and builder will finalize the technical components of your design plans. Every measurement and spec will be painstakingly detailed in order to select and schedule the necessary building materials. Your architect will now use these documents to seek approval from the Houston Housing Permitting Center to secure the necessary permit to start construction on your project.
How Long Does It Take an Architect to Draw Plans?
Four to six months is the time it takes to go from ideas in notes and pictures to a full set of heavily-detailed technical construction documents that a construction team can use to create your family's dream custom home. As you can see, this is no small task–requiring communication with the county clerks, meetings with you and your builder, coordinating schedules, and other time-consuming elements.
Tips for Maximizing Efficiency During Design
Although you shouldn't expect to be able to rush along the design process for many reasons, there are steps you can take to be sure you are contributing to the design phases in a productive, forward-moving way.
From the beginning, have as much information to offer your architect as possible. As for design ideas about your custom Houston home, don't be timid about getting very detailed. The type of ceramic penny tile you'd like to use in the downstairs half bath might not be relevant during the first phase of design, but having finer details like this already decided will cut down the enormous amount of decisions you'll have to make later.
Similarly, you should get your home builder involved as soon as possible too. Pre-design isn't too early because you want your home builder and architect working together from the get-go to ensure that your design is aligned with your budget and your timeline.
If you began this process having already purchased land, have your land survey documents ready for your architect as well as any other property information that could be useful.
Be sure you have consistent availability to communicate with your architect and schedule meetings. Also, if you know yourself to be unavailable for long periods of time or are planning to travel, consider having another person be a point of contact or offer your architect an alternative way to reach you.
Finally, when the design is finalized, it will impede progress and probably add to your cost to require your architect to go back into your drawings and make changes. All the more reason to do your design homework ahead of time, offer an abundance of information and ideas and be attentive during the schematic phase.
Collaborating with Your Architect and Home Builder in Houston
At Southern Green Builders, we not only provide quality construction services but also valuable pre-construction services to help make the entire luxury home-building process smooth and efficient. We know from our experience that when your architect and your custom builder collaborate together from as early on as possible on your project, you benefit. Contact Southern Green Builders today to schedule a consultation about your future custom home.