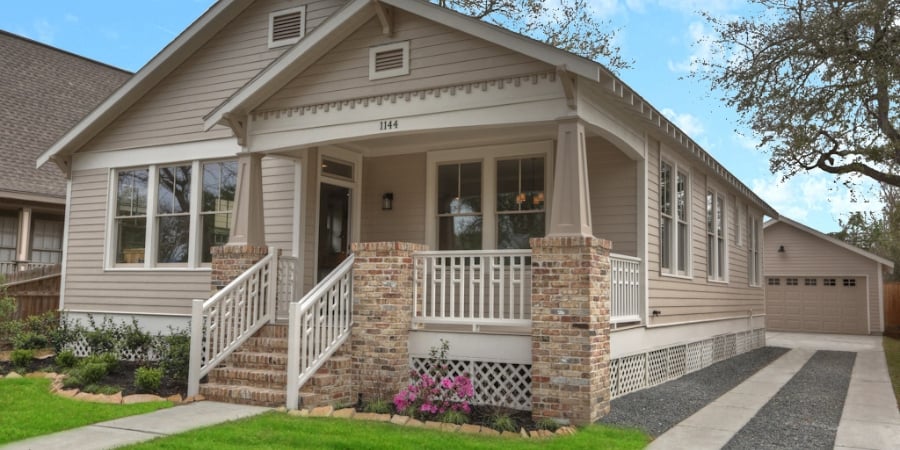 Certain properties in Houston are protected by ordinances governed by the Houston Archaeological and Historic Commission (HACH) to help preserve historical architectural significance. Preserving our architectural history is extremely important, however, the system can create some roadblocks when you're creating a design to update or add to your historic home. Navigating the application process to get your project approved can be arduous but manageable with the right professional team on your side.
How Long Does an Addition Take on A Historic Home in Houston?
Given the intricate process and additional complexities that come with working with an older home, an addition and remodel of a historic home in Houston will usually take between 9 months and 1 year. This timeline varies based on the scope of the project including how much (and where) space is being added and to what extent the existing structure is being changed. For historic homes that present more complications, like foundation and support issues, this timeline could reach up to a year and a half.
Why do historic homes take that long to remodel or add onto? There are a few reasons we can explain, including the approval process, the stringent criteria your design must meet, and the complexities of working with an older home.
Be Proactive When Working to Get Your Project Approved by the HAHC
In order to move into the permitting phase of your project, the HAHC must first issue a Certificate of Appropriateness (COA) based on plans and design criteria outlined by your design professional. The submission and review process is lengthy because it is required that applications be submitted 22 days before the next HAHC meeting, which are held only once per month.
The City of Houston Planning & Development Department suggests contacting them early in your project development and we couldn't agree more. The staff is helpful and can assist you and your architect in identifying ways to streamline your application process and prevent unnecessary delays. They can also help you and your team identify the updates and changes that best suit your property and remain within the parameters of the criteria for obtaining a COA.
Waiting to bring in a staff member until further along in your design process can cause a delay when having to take steps to correct designs to suit the criteria as well as accrue additional costs. This delay in the design process is avoidable. Contact the staff at 832-393-6556 or historicpreservation@houstontx.gov for guidance.
What Are the Criteria for Adding onto Your Historic Home in Houston?
There are 11 criteria in all for additions and remodeling of historic homes in Houston. Some of the criteria allow for a limited amount of leniency but it's best to stick to them by the letter to achieve a COA. For a detailed explanation of each criterion as outlined by the City of Houston Planning & Development, view their Historic Preservation Manual.
Here are a few of the major takeaways from the preservation manual your schematic design must follow:
Craftsmanship
Craftsmanship is an element that makes different historical architectural styles most distinguishable. Exterior woodwork, joint connections, details, and features on the addition must coincide with the original home. The windows, siding, gables, porch, eaves, and balconies of the original structure must remain intact; therefore, your design must work around these features or work to reconstruct them if damaged.
Building Materials
The historic characteristics of a home are often communicated through the building materials used. As such, your new building materials should be compatible with the original materials. This isn't to say that they must be an exact match, especially because new versions of older materials may no longer be available. However, the new materials should replicate and be complementary in terms of texture, pattern, and dimension.
Context
Additions to a historic home should work within the context of the existing neighborhood's character and structures. The blockface and opposing blockface that your home is within are the blueprint for the height and façade of your home, and any addition shouldn't contradict that. This includes the height, roof structure, width, and proximity to the street.
Second Story Additions
It's stipulated that visibility from the street of an addition be greatly reduced. However, the HAHC understands that without additional square footage, some homes may be left unusable, vacant, and deteriorate from nonuse, so they will make some exceptions. You and your architect should work closely with city staff to create a carefully designed plan to fit all other criteria. For example, if adding a second story, the addition must be as far back from the front vertical wall of your home as possible, to retain the original massing of the historic home's style.
Complications of Remodeling an Older Home That Can Affect Your Timeline
Older homes that haven't been maintained will come with additional work that will need to be addressed during a remodel or addition. For example, the foundation may be uneven or compromised. Whether it's a significant amount of damage or minimal, the foundation will have to be repaired or corrected before any further remodeling can take place. Your builder may even need to drill through the floor of the existing structure in order to accommodate load supports for a new addition.
Other issues may include repairing water damage, replacing subflooring, replacing rotted wood around window and door casings, replacing old electrical wiring and plumbing lines, rebuilding fireplaces that have lost structural integrity, among many other things.
The Most Important Step in Remodeling or Adding Onto Your Historic Houston Home
Older and historic homes can be challenging to update and create additions for, this is why hiring an experienced architect and builder is paramount for your historic home addition. You will want to seek out a builder with experience navigating the project approval process as well as creating an addition that blends seamlessly with the original home.
Southern Green Builders is a luxury custom home builder and remodeler that serves the Houston area in everything from a brand-new home to a historical restoration and addition. We know our way around the tedious process of bringing your historic home up to modern standards while respecting the characteristics that make it special. Contact Southern Green Builders to schedule a consultation and start planning your own historic remodel.