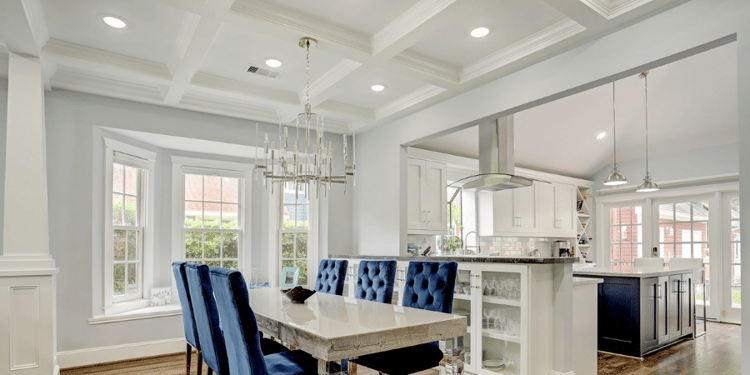 Although it may not get the same direct attention as your walls, cabinets and major household appliances and fixtures, your ceiling sets the tone for the environment you wish to create in your custom home.
The height, shape, color and texture of your ceiling can help you communicate your vision for a particular space. As you're designing your new Houston home, it's important to clarify what that vision is. From there, you can select a ceiling to match.
How to Select a Ceiling Design and Style?
In choosing different ceiling styles and designs, there is a lot to consider. The first thing to keep in mind is that the best type of ceiling varies based on the space in which it lives. What works for one room may not be best suited for a different space, which means you will likely be selecting a few different ceiling styles in the process of planning your custom home in Houston.
Along with the function of a room, you also want to consider its general shape and size and how your ceiling will compliment the layout. Additionally, you should factor in the overall aesthetic of your home's interior. For traditional styles, you may want to select a more austere cathedral ceiling with intricate moldings, whereas a contemporary style would call for sleek lines and minimal detail. Feel free to play around with different ideas for the shape, texture and color of your ceiling during the design phase of your new home build.
Other items to consider before making your decision include the type of ceiling light fixtures you want and where they need to be placed; optimal acoustics for each interior space; and energy efficiency and ventilation. To enhance either the function or form of your ceiling, there are also unique architectural features you can include, such as wood beams, floating screens, panels and skylights.
Popular Ceiling Style Options
There are numerous types of ceiling styles you can select, from conventional and raised ceilings to vaulted and suspended ceilings. Ceiling styles are identified by characteristics like the shape, grade and texture. For example, the standard ceiling height for custom homes is 9 feet; anything above that mark is typically considered a high ceiling.
To help you start narrowing down the right style of ceiling for your luxury home in Houston, here is an overview of the most popular options:
1. Conventional Ceiling
A conventional ceiling is the one you commonly see in homes: plain, flat, seamless and about 9 to 10 feet high. The surface typically receives a standard drywall finish to match the walls. Although conventional ceilings are easy to build and functional, they don't do much in terms of elevating the appearance of a room. Also, a space can feel small and constricted if the ceiling is too low.
2. Cathedral Ceilings
The term "vaulted ceilings" encompasses any type of elevated ceiling—namely, cathedral and shed ceilings. Cathedral ceilings, which are known for their inverted V-shape, make a space feel large and grandiose, like the extravagant European cathedrals for which they're named. They are commonly used for upscale living rooms, dining rooms and master bedrooms. You can make a cathedral ceiling from a variety of materials, with linear wood a desirable option.
Shed ceilings, on the other hand, are like half of a cathedral ceiling. They start lower on one side and then slope up to an elevated point, creating a slant.
3. Raised Ceilings
One common type of raised ceiling is a tray ceiling, which features a center section that is several inches or feet higher than the perimeter around the room. Not only do tray ceilings open up the room and provide a sophisticated illusion of height, but they are also architecturally interesting. You can use distinct paint colors for the perimeter and the raised section to further transform your ceiling into a focal point.
4. Beadboard and V-Groove Ceilings
Beadboard planks are often associated with trimming and wainscoting, but in recent years, they've become a trendy option for ceilings. Beadboard is comprised of flat planks with one or two semi-circular, raised ridges—known as "beads"—carved vertically into the face of the boards. It gives the appearance of several narrower boards placed adjacent to one another, which is a popular look for a cottage- or coastal-style interior.
Like beadboard, V-groove planks are often used to add character to a space. However, the boards are wider and feel more substantial, which makes them superior for large ceilings where the intricacies of beadboard would get lost. V-groove planks, which can contain a chamfered edge, are fit together via a tongue-and-groove joint. The resulting V-shape between the boards is clean and sleek enough that you can use this type of ceiling in a modern or contemporary space, but it also complements other design aesthetics.
5. Beam Ceilings
In residential environments, you'll often find beam ceilings in living and dining rooms. The exposure of large, wood beams along the ceiling creates texture and visual variation in the space. In some cases, you're simply exposing the natural load-bearing beams of the room, but beams can also be included simply for their aesthetic appeal in spots where they're not needed for structural support. For your beam ceiling, you have the option between reclaimed beams made of solid wood and box beams, which are hollow inside and more versatile. Although beam ceilings can be incorporated into a few different design styles, they are typically too overwhelming for a small room.
6. Coffered Ceilings
If you want to add a touch of luxury and sophistication to a room in your new custom home, consider a coffered ceiling. This style is often found in historic churches, hotels, libraries and high-end homes. The term coffer means "indentation" in architectural terms. Coffered ceilings are constructed by framing indentations or recesses in your ceiling with crown molding. Using this techniques, you can create various grid patterns. Visually stunning, coffered ceilings lend a touch of classic elegance to any space in your home. If you're renovating a historic home in Houston Heights, a coffered ceiling could be an especially good fit.
7. Porch Ceilings
If you have an outdoor living area, such as a porch or veranda, you'll also have to decide what type of ceiling design is appropriate for that space. A nice V-groove or beadboard ceiling makes the porch feel more comfortable and intimate while also enhancing the overall curb appeal of your home. Popular materials for porch ceilings include the previously mentioned beadboard or v-groove wood which can be painted or stained, or moisture resistant drywall for a smooth finish.
Building Your Houston Home from the Ground, Up
In the process of designing and building your custom luxury home in Houston, you have to make numerous decisions about the ceiling, the floor and everything in between. When you hire Southern Green Builders as your contractor, we offer more than construction services. Our team can work alongside your architect during the design phase to provide practical information and guidance about how different ceiling styles look and function in different spaces, giving you confidence about your decisions before transitioning to construction.